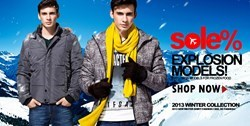 (PRWEB) April 01, 2014
Recently, Skmen.com, a famous company offering various kinds of fashionable clothes, has updated its online category with a new range of 2014 spring dresses for women. All customers who place an order for these trendy outfits can get a discounted price, up to 28% off, before April 10, 2014.
The company's chief executive officer was excited when talking about its new spring dress selection. "We are happy to reveal our new designs of women's spring outfits. Now, clients can a wide variety of top quality clothes at our website. Our company is a big player in the clothing industry and we promise to offer the best items only. Customers who are interested in our new products should visit our online shop as soon as they can, because the special offer will not last for decades," he says.
The aim of Skmen.com is to provide old and new clients with the best of international fashion. Its top experts know that a lot of people are looking for cost-effective clothes. They are always ready to help worldwide customers.
As one of the industry pioneers in the current market, Skmen.com understands the significance of its clothes and services; it always holds that responsibility with the utmost seriousness.
About Skmen.com
Skmen.com, a reliable company founded in 2009, is one of the leading suppliers of men's and women's high quality clothes. It has more than 5000 customers from every part of the world; it hopes to help worldwide stylish ladies and gentlemen. For more detailed information about the company and its wonderful items, readers can visit http://www.skmen.com/product-women-s-dresses-003004.aspx.