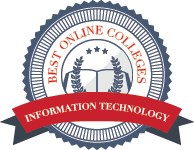 (PRWEB) March 31, 2014
BestOnlineColleges.org is a pioneer in online educational resources for students. We seek to help new students during their college search by providing an analysis of what degree paths are actually available to them, with an emphasis on distance learning. By combining educational data with surveys and academic resources, we evaluate and rank the best places in the U.S. for online degree programs of all subjects.
The Top Online Information Technology Degree Programs
Information technology is a relatively new field that deals with the application of computer systems to manage data. This data can be as small as a single spreadsheet or so large that it requires multiple computers and storage unity to adequately handle. According to the U.S. Bureau of Labor Statistics, the computer systems design and services industry is among the economy's most rapidly-growing professions. Information technology professionals can work in a virtually unlimited number of environments, since nearly every business in operation today requires the manipulation, storage, and analysis of data to function competitively.
Information technology is practiced using computers, so it should make sense that studying it online is an efficient way to get a quality education in the field. Online learning modules typically include coursework in areas like data retrieval, transmission, and manipulation. This requires knowledge of databases and networking, which is all done for computers. Online information technology education is extremely unique in that an online education happens to be a "hands-on" education, since you can work with your own personal computer at home to reinforce the subject matter.
BestOnlineColleges.org has created a ranking of the 2014 Best Online Information Technology Degree Programs by analyzing data from the National Center for Education Statistics (NCES). The website's methodology states that these rankings take important factors into account for each school like graduation rates, retention rates, and the educational platforms used for course delivery. The list includes 39 schools and is published at: http://www.bestonlinecolleges.org/best-online-information-technology-degree-programs/. Schools featured include:
AIB College of Business
Allegany College of Maryland
American National University
Bladen Community College
Career Point College
Centura College--Virginia Beach
Charter College--Anchorage
Cleveland Community College
College of Southern Maryland
Davidson County Community College
Eastern Arizona College
ECPI University
Erie Community College
Fountainhead College of Technology
ITT Technical Institute--Indianapolis
King University
Lakeland Community College
Lawrence Technological University
Lenoir Community College
Metropolitan Community College Area
Moberly Area Community College
Montgomery Community College
National University College--Bayamon
Palm Beach State College
Pennsylvania State University--Penn State Wilkes-Barre
Randolph Community College
Seattle Community College-North Campus
Sheridan Technical Center
Southeastern Community College
Southwestern Community College
St. Petersburg College
Stevenson University
Syracuse University
Tennessee College of Applied Technology--Crossville
Tennessee College of Applied Technology--Harriman
University of Maine at Augusta
University of South Carolina--Upstate
Vista College
Wilson Community College