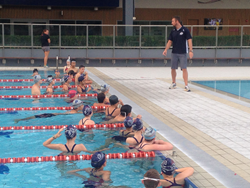 A swimmer's competitive lifespan is very short. Swimmers must make good choices regarding coach, personal goals and environment as these will drastically affect your career.
Singapore, Singapore (PRWEB) April 01, 2014
Stamford American International School invited Olympic swimmer and World Champion, Gerhard Zandberg, to run a stroke and technique clinic with the Stamford swim team students from March 31st to April 5th. As recently as this past summer, Zandberg competed in the 2013 World Championships before unexpectedly retiring due to a controversial ruling by the South African Swimming Federation.
Zandberg is an accomplished swimmer and coach born and raised in Pretoria, South Africa. His achievements include 72 national titles and 27 national records. At the age of 16, Zandberg was ranked sixth in the world for the 50m backstroke and by the time he was 20 he was ranked as the world's top 50m backstroker. At 22, Zandberg went on to win his first major international gold medal at the Commonwealth Games swimming the 4x100m Freestyle relay and the bronze medal for the 50m backstroke. In 2007, Zandberg became a World Champion at the Fina World Championships and took away 12 gold medals during the Fina World Cup series. Zandberg also competed in the 2004 and 2008 Olympic Games.
At the 2013 World Championships, Zandberg was looking to join Michael Phelps as the only swimmers to win medals in the same event at five World Championships. Instead, Zandberg drew fire from the South African Swimming Federation for switching hotel rooms to avoid catching germs from roommate Cameron van der Burgh who was battling a cold. Zandberg had requested a change of room from the federation but received no response, so decided to change of his own accord. For this seemingly minor infringement, Zandberg was given a 5,000 Rand fine, a two-year suspension and forced to participate in a year of community service.
Zandberg appealed the decision in the hopes that reinstatement would allow him to compete in the World Cup meets, but the South Africa Swimming Federation dragged its heels on announcing a verdict. Instead, Zandberg announced his retirement from competition.
Zandberg is pursuing legal action against the South African swimming federation, saying, "My main drive to take them on was to stand up for what I believe is fair and right. I am taking control of my career and my name as a swimmer. When you are in the wrong, you should admit it, apologize and move on. But when you are right, you need to stand up for it."
Though resolved not to let the swimming federation off the hook, this talented swimmer is no longer competing in the sport he loves, "If I hadn't received the suspension, I would still be swimming competitively. Unfortunately, I was forced into retirement by bureaucracy, not because I felt I couldn't go any faster. I love the sport and the technical preparations that go along with it."
Still Zandberg enjoys working with up-and-coming swimmers and takes the opportunity to offer the Stamford American students pursuing dreams of swimming competitively advice, saying, "A swimmer's competitive lifespan is very short. Swimmers must make good choices regarding coach, personal goals and environment as these will drastically affect your career."
ABOUT STAMFORD:
Stamford American International School (Stamford) is the new benchmark for excellence in international education in Singapore. With its experienced team of educators, cutting-edge facilities and rich cultural diversity, there is no better way to prepare students for a competitive and fast changing world.
Stamford's academic curriculum prepares students for entry into the world's top universities. Stamford is the first school in Singapore to offer students both the International Baccalaureate (IB) Diploma and the American High School Diploma – giving students an international experience with an American foundation. Stamford also excels in the teaching of languages offering Mandarin and Spanish classes on a daily basis, beginning when students are as young as 2 years old.
Stamford's $300 million campus at Upper Serangoon Road is the most advanced Nursery through Grade 12 learning environment ever built. The new facility features state of the art technology and facilities that establish it as the new benchmark for international schools around the world.
The campus is the largest investment in a Nursery to Grade 12 education facility anywhere in the region, and a major economic injection into the Singapore economy. The new campus is designed to be the perfect environment for preparing children for careers in the 21st century.
Key features of the school include:

iLEarn - Singapore's first interactive learning environment where guest lecturers and teachers from around the world can interact with students.
Singapore's first 1-to-1 iPad Program for KG2 to Grade 5, & 1-to-1 MacBooks for Secondary School students
A 21st century Media Resource Center - beyond the traditional library, this center is up to date with the latest traditional as well as technological resources
State of the art science wing and computer laboratories
Comprehensive art facilities
World-class sporting facilities
Specially designed Early Years/Nursery facilities