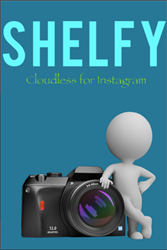 Nashville, TN (PRWEB) April 01, 2014
Today, on the Gmail blog, Google announced "Gmail Shelfie," a way to turn your Gmail background into a selfie, and share it with your friends and family.
Greg Bullock, Software Engineer writes:
"Today, we're proud to free your selfies by launching Gmail Shelfie, the SHareable sELFIE. Gmail Shelfie is built on the idea that you shouldn't be selfish with your selfie. With just a few clicks, your mom, your aunt, or that girl you have a crush on can set your Shelfie as their Gmail theme so they can enjoy checking, reading, and writing emails while seeing your friendly face in the background."
BadApp Studios will release the Shelfy family of apps on the app store on April 10th. The Shelfy family of apps will consist of two very unique photo saving and organization apps. The first app is Shelfy for Instagram. This app will allow users to navigate through Instagram and also adds many other functionalities such as reposting, ability to like the photos of others, sharing, following, and most importantly, saving photos by dragging them into small, irresistible Shelfy characters that are intended to appeal to users of all ages. The second Shelfy app that will be released on the same day is Shelfy for Snapchat. This app provides full Snapchat functionality to send and receive Snapchat photos within the app. Shelfy for Snapchat also provides the user with the ability to save any received photos by dragging the thumbnail display of the photo into the folders that are being held by the same tiny Shelfy characters as in the Shelfy for Instagram app. For each of the apps, there will be 50 different Shelfy characters ranging from ninja shelfies to scuba diving shelfies. Both apps are scheduled for release on the App Store on April 10th. For more information on the apps, you can visit the Shelfy family of apps website.
BadApp Studios is based in Nashville, TN and has been committed to developing apps that are designed to preserve device memory and keep the native camera roll free of downloaded photos coming from other apps. BadApp Studios currently manages Snap Vault for Snapchat, as well as the recently released, SnapBase for Snapchat and InstaDots for Instagram.