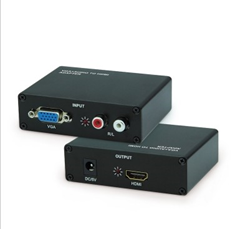 (PRWEB) April 01, 2014
Recently, Hiconn Electronics, a leading electronics accessory wholesaler, has released its latest versions of VGA+R/L Audio to HDMI Converters. And this morning, the company has started its converter promotion. All the company's current and prospective customers can get a discounted price now, up to 28% off.
Each of these brand new converters is great. It is worthy to mention that Hiconn Electronics is one of the pioneers in the electronics industry. Its top experts keep working hard to create more useful electronics products for worldwide distributors. Provided at the company's online shop is a huge selection of inexpensive accessories that made from top quality materials.
Some detailed information about the company's brand new VGA+R/L Audio to HDMI Converters is as follows:
--Aluminum shell
--Compliant with HDMI 1.3
--VGA input: 640*480@60Hz, 800*600@60Hz, 1024*768@60Hz, 1280*720@60Hz, 1280*768@60Hz, 1280*800@60Hz, 1280*1024@60Hz, 1360*768@60Hz, 1600*1200@60Hz, 1920*1080@60Hz, 1920*1200@60Hz
--Audio for input – 3.5mm
--HDMI output – up to 1080P
--Coming with certified 5V 1A power supply
--Retail paper box
For the company, low prices do not mean poor quality. All its affordable products are excellent in terms of performance and quality. "We are excited to announce our new VGA+R/L Audio to HDMI Converters. I am proud to say that Hiconn Electronics has received a lot of positive comments over the past few months. So we launched the special offer to show our appreciation to all clients," the development manager for the company says.
About Hiconn Electronics
Hiconn Electronics (Shenzhen Hiconn Electronics Co. Ltd.) is devoted to designing and manufacturing a wide range of connection cables and customized cable assemblies, offering many HDMI cables, VGA cables, SATA cables, USB cables, 1394 cables, DVI cables, SCSI (Small Computer System Interface) and more. For more information, please visit http://www.hiconn.net/.
Contact Person: James Yin (Sales Director)
Company Name: Shenzhen Hiconn Electronics Co., Ltd.
Address: Shenghua Building., Xixiang Road., Baoan District, Shenzhen, Guangdong Province, China
Zip Code: 518102
Tel: +86-755-8109 8345
Fax:+86-755-2779 3497