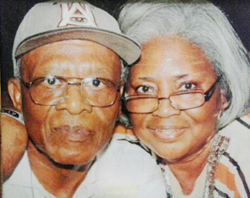 Chicago, IL (PRWEB) April 01, 2014
American Homeowner Preservation ("AHP") continues to battle the nation's foreclosure crisis utilizing real estate crowdfunding by adding the Roscoe family to the list of close to 500 homeowners which AHP has helped keep their homes. Annie Roscoe's husband has lived in the same house since he was born 70 years ago. In 2002, his health began to decline and he had a series of five mini strokes and the resulting healthcare bills caused the Roscoes to fall behind on their mortgage payments. In 2004, Mr. Roscoe used $10,000 of his $20,000 retirement fund he earned as a Department of Transportation engineer to catch up on his mortgage payments. However, the Roscoes said they then lost contact with their mortgage lender and spent the next 9 years trying to track down who owned their loan.
"All of a sudden we got a letter from a new mortgage company, after almost 10 years of trying to find out where our loan was," Mrs. Roscoe said. "That's when they said we owed a hundred and some thousand dollars on our mortgage, and I said, 'this is crazy'. We only got a $50,000 loan. It's not our fault that the company, I don't know if it folded or they got all the money they wanted to get, we don't know anything about what happened to them."
The Roscoes tried to work with their new lender to modify their loan payments, but had no success. They were required to pay $700 a month, which was an unmanageable figure based on their income. So the Roscoe's paid what they could in the meantime, $400 a month, yet they were told they were still going to lose their home. They exhausted all their resources in attempts to keep the longtime family home, including contacting the attorney general, but still had no success.
That is when the Roscoe's received a letter saying that AHP had purchased their loan. AHP offered to settle their delinquent payments for $2,000 and modify their monthly payments down to $250. Once Mrs. Roscoe found out that this was a legitimate offer, she was overwhelmed with relief. "It made me so happy to know that there is somebody out there to help people that are trying to keep their homes, because some people don't care; they'll do whatever they can to get your house," she said. "Mr. Newbery (AHP's CEO) was so nice, it was like a breath of fresh air. It just took a burden off us."
According to RealtyTrac.com, 1 in every 1,170 U.S is in some stage of foreclosure. Foreclosure not only displaces people from their homes, it creates vacant homes leading to blight and higher crime rates. Fueled by real estate crowdfunding, AHP is a combatant to the nation's foreclosure problem. AHP's real estate crowdfunding investors not only receive competitive returns on their investments, they gain the satisfaction of knowing they contributed to a solution to one of the nation's most significant social issues.
Through AHP, investors' funds are combined to buy pools of distressed mortgages at significant discounts, averaging 50 percent of the property value. These large pools diversify risk by relying not on the success of a single asset, but on the performance of a large pool of mortgages Once AHP has purchased the pools, homeowners are provided viable options to stay in their homes.
American Homeowner Preservation was established in 2008 as a nonprofit organization before transitioning to for profit. Today, AHP purchases pools of distressed mortgages from banks at big discounts, and then offers sustainable solutions to families to avoid foreclosure and stay in their homes, while concurrently generating attractive financial returns for both the homeowners and investors. For additional information on American Homeowner Preservation, please visit https://www.ahpinvest.com, call (800) 555-1055 or email at info(at)ahpinvest(dot)com.