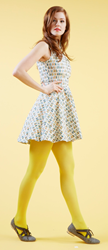 "Vaute Couture proves that compassionate animal friendly fashion can be cute, chic, and sexy." OPRAH.com
Nashville, TN (PRWEB) April 01, 2014
Fashion forward, socially responsible NYC based brands VAUTE Couture and BHAVA Footwear continue to push the envelope of conscious commerce.
Thursday April 4th at 7PM Vaute Couture apparel accompanied by BHAVA footwear will be among headlining brands on the runway. Other brands in the evening's line-up include Amanda Uprichard, Samantha Pleet, SW3 Bespoke, and Skif International.
In addition to the runway presentation Friday April 5th, Leanne Mai'ly Hilgart of Vaute Couture will speak at the Industry Panel: Social Enterprise and Sustainable Fashion Brands. The panel will feature a moderated discussion followed by an audience-driven Q&A session. Called "the Rebel of Fashion Week" by CNN, Leanne Mai'ly Hilgart will share how she started the ethical fashion line that broke runway history, Vaute Couture, through cutting edge sustainable practices and putting a love for animals at the forefront of everything they do. Without a background in fashion or funding, Hilgart shares her lessons in how to create a sustainable business to serve the world with who you are.
Nashville Fashion Week is a city-wide celebration of Nashville's thriving fashion and retail community and its vast array of creative talent—featuring local, regional and national design talent in fashion events and shows, and encouraging both Nashvillians and visitors to explore the city's diverse fashion and retail spaces throughout the week with promotions, partnerships and educational workshops.
RSVP here
Supermodel and songstress Karen Elson will host as special guest speaker at the Fashion Forward Gala, next Thursday, April 3 at OZ at 6:30 pm. Elise Joseph, the 2013 Nashville Fashion Forward Fund recipient, blogger and stylist of Pennyweight, will also join Elson as well as guest speaker Fern Mallis, creator of New York Fashion Week, for the evening festivities. The Gala welcomes the local community to celebrate and support the resolute, entrepreneurial spirit of the Nashville Fashion Forward Fund of the Community Foundation of Middle Tennessee. 
VAUTE by Leanne Mai-ly Hilgart, focuses on creating the future of fashion – high design, ethics, and function at once. "Hilgart is the rebel of Fashion Week," said CNN News. Fans include Angela Kinsey, Emily Deschanel and Alicia Silverstone.
Bhava footwear sets a new standard in footwear design by sourcing the highest quality hand-woven, organic, recycled and cruelty free components.  The Bhava aesthetic represents timeless elegance with a dose of ingénue charm.  Bhava's mission is to create a footwear experience,  as in tune with the environment as our spirit.