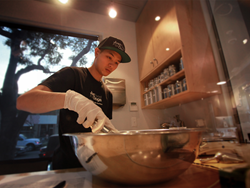 We all wish these best friends a speedy reunion.
West Hollywood, California (PRWEB) April 03, 2014
After a hero dog named Bruno risked his own life to save his human partner's, local organizations and their corresponding humans continue to cooperate to help meet his medical needs. The team at JustFoodForDogs (http://www.justfoodfordogs.com) has offered to join in the cause through the donation of a special, limited ingredient dog food.
Bruno, who was critically shot in the jaw while on the line of duty on March 20th, has undergone a series of successful surgeries for his injuries at Yorba Regional Animal Hospital. In a recent surgery, the bottom portion of his tongue was reattached and his breathing tube was removed.
Bruno is also severely allergic to common commercial dog food ingredients, and usually eats a limited ingredient special diet to address these allergies. However, after his jaw injuries, Bruno was unable and unwilling to eat any standard commercial dog food. A special diet had to be prepared, fresh.
Shawn Buckley, CEO of JustFoodForDogs, a local company leading in canine veterinary nutrition, was contacted last week by the seven year old German Shepherd's caretakers to see if there was anything they could do to help. The company's veterinarian, Dr. Oscar E. Chavez, Director of Canine Clinical Nutrition, went straight to work in formulating Bruno's custom medical diet.
Many dogs have specific nutritional needs that the company has been addressing for over three years. Specialists and veterinarians in Southern California send these cases to Dr. Chavez so that he can custom tailor a diet to meet those needs. Since the food is fresh prepared from real USDA certified ingredients, the same quality as you would use in your own kitchen, the diets are usually very well accepted by the patients, aiding in their recoveries. The success and effectiveness of the custom formulation program (http://justfoodfordogs.com/vets-sick-dogs/custom-prescriptive-formulas/) has been a large contributor to the growth of the company.
"Bruno needed a custom formulation made of Kangaroo and Oats because he has severe allergies. When I received request on Monday, the team rushed to make the diet. Danny compounded the nutrients, Justin ordered the ingredients, prepped, and cooked the food, and our retail manager Kristen delivered it while our CEO helped coordinated everything. The pictures of Officer Young and Bruno in the hospital moved me. While not the same situation, my own dog of 17 was recently in the hospital and I know how it feels to have your buddy in there. We all wish these best friends a speedy reunion," said Chavez.
According to the hospital team, Bruno loves his new limited ingredient dog food diet and since it was delivered on Saturday, March 29th, Bruno's condition has been upgraded to fair. His life threatening wounds seem to have stabilized. He is due to make a long, but steady recovery.