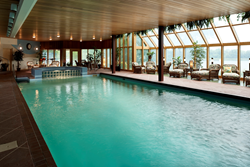 Alexandria, MN (PRWEB) April 22, 2014
The Brentwood Estate near Alexandria Minnesota with its many luxury lake homes and amenities is now open to the public. Family-owned for 30 years, the property was sold, and is now available for short- and long-term spring, summer, and fall rentals.
Four lake homes, a grand main lodge (Mary Hill), three lovely luxury lake cabins, a fantastic suite, and a cute apartment, all situated on 45+ acres, and 2,000 feet of lake shore on Big Chippewa Lake are available during spring, summer, and fall months.
Immaculately manicured lawns, a complimentary fleet of five boats, four SeaDoo personal watercraft, an Air Nautique 220 wakeboard boat, tennis, sand volleyball, shuffleboard, scenic walking trails, a malt shop, a movie theater, billiards room, an indoor pool and hot tub, and a lake side fire pit make this rental one-of-a-kind Minnesota vacation spot.
"This is the perfect place to host a large family event, or reunion in Minnesota. The lake and all of our common areas are perfect places for large groups to gather and vacation together, whether it be spring, summer or fall," says Keith and Annette Byman, owners of Brentwood Estate lake homes.
Brentwood Estate is close to many Alexandria, Minnesota attractions and landmarks like Casey's Amusement Park, Andes Tower Hills, the Runestone Museum, the Central Lakes Trails, and Atikwa Golf Club at Arrowwood Resort.
For information about group rates and lake cabin availability call 402-203-2700, email info(at)brentwood(dot)mn or visit the Brentwood Estate website.
To schedule a tour or an interview with Brentwood Estate owners, or the rental team contact Keith and Annette directly at 320-634-6758, or info(at)brentwood(dot)mn.
Visit us at http://www.brentwoodmn.com | @BrentwoodMN | On Facebook
SOURCE: Brentwood Estate Lake Property Rental Team
For further information about Brentwood Estate Alexandria, Minnesota rentals: Keith Byman, Telephone number: 320-634-6758 or email: info(at)brentwood(dot)mn