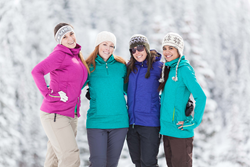 We believe in our products and stand behind them," Dormady says. "It is a perfect jacket for fall, winter, or a cool spring day."
Denver, Colorado (PRWEB) April 03, 2014
Denver, Colorado company TAMAGEAR launched a Kickstarter campaign March 25 to bring its mid-layer jackets to market. Kickstarter is the world's largest funding platform for creative projects, including clothing design projects like this one.
TAMAGEAR is a high quality, fashionable and technical product line designed with your activities in mind.
"We know from customer feedback that our mid-layer jackets are very popular, but we need the public's help to bring them to market," says TAMAGEAR Founder and President Dean Dormady. "The factory already has the artwork, technical packs and materials. We have hundreds of orders, now, we need hundreds more to meet the minimum factory order."
All TAMAGEAR is asking is that you check out their product. If you feel it should go to market, then give to the campaign. There are many incentives; if you pledge $100 you get to pick a mid-layer in the size and color you want. There are incentives up to $700 and as little as $5.
The TAMAGEAR mid-layer comes in multiple styles and colors for men and women. The jackets are 94 percent polyester and 6 percent spandex blend, with four strategic pockets for added functionality. It's inspired by the Saddleback Tamarin monkeys. Known in the wild to have the ability to leap through trees and branches with ease, this piece is designed for lightweight utility, sporty fun, and is strikingly flattering. It is so well made; TAMAGEAR built it for life and it's guaranteed to last. The company will even repair it free of charge or replace it if damaged from manufacturing defects.
"We believe in our products and stand behind them," Dormady says. "It is a perfect jacket for fall, winter, or a cool spring day."
To learn more about the Kickstarter campaign, please visit http://www.kck.st/1pocLAj. Partners just like you have already pledges more than $5,000. TAMAGEAR must meet its goal of $55,000 for a successful campaign. To learn more about TAMAGEAR, visit tamagear.com.
-30-
Tamagear's mission is to create, design and develop the highest quality products for the active lifestyle, and inspire sustainable actions to benefit endangered species and habitats around the world.