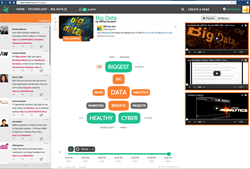 Changing the user's interaction with Twitter from publishing content to consuming it, makes expressions valuable.
Boston, MA (PRWEB) April 01, 2014
Charles Thompson, CEO of Darwin Ecosystem LLC (http://www.darwineco.com), today announced that it will be showcasing the latest in the evolution of its award-winning Darwin Awareness Engine at the Big Data TechCon conference in the exhibit hall starting at 2pm Tuesday, April 1 to April 2 in Cambridge, MA (http://www.bigdatatechcon.com/).
"We look forward to revealing to the Big Data community the advancements and applications of the Darwin Engine since receiving the SAP Big Data Start-up of the Year Award in 2012 for our innovative approach on improving the consumption of tweets. Our new solution, tweetup™ (http://www.tweetzup.com), aggregates and converts the large quantities of information contained within the Big Data of human expressions found in Twitter. In doing so, we change the user's interaction with Twitter from pushing content to consuming it. Organizations significantly improve their ROI by reducing the time spent on acquiring awareness, discovery and information consumption, through better decision-making that enhance their human capital."
"Tweetzup™, as the name implies", added Thierry Hubert, Darwin CTO and founder, "deals primarily with the overabundance of tweets expressed everyday on Twitter. Thus the difficulty of easily knowing what's up on what matters to the user. To address this problem, our fundamental approach needed to be rooted in the application of chaos theory principals to those data for the patterns of human expressions to be revealed. Tweetzup™ allows users to create, and subscribe to, topic pages that correlate and analyze tweets to make it easy for the organization to know what is emerging, what is evolving, what is happening. Users are able to filter massive streams of tweets, visualize, share and set alerts from the emerging patterns of human expression." Hubert also announces that, "tweetzup™ is offered as a Software as a Service (SaaS) solution to the enterprise seeking to improve its awareness and discoveries from real-time expressions, in conjunction with professional services in integration, advanced analytics and predictive computing solutions."
Hubert and his fellow associates at Darwin Ecosystem enthusiastically invite anyone who works with Big Data to visit them at the Big Data TechCon conference this week at the Cambridge Regency Hyatt hotel. Interested participants can drop by the company's exhibit booth to learn firsthand how tweetzup™ can help organizations "tame the Big Data Monster", help reduce the Big Data maturity chasm, and reveal the insight buried in timely human expressions.
About Darwin Ecosystem:
Darwin Ecosystem LLC, is a Big Data solution software company, based in Minneapolis Minnesota and Arlington Massachusetts, which focuses on creating solutions to the problem of information overload caused by the Big Data of human expressions. With the ever-increasing volume, velocity and variety of human expression being generated, it is increasingly difficult and time-consuming for enterprises to locate valuable data pertinent to their topics of interest. The Darwin Awareness Engine addresses this challenge by revealing patterns of human expressions to organizations hence delivering insight and understanding of what matters to them in a more timely and efficient manner. Learn more about Darwin and its flagship product that demonstrate the power of the Darwin Engine, tweetzup™, at http://www.darwineco.com. Follow us on Twitter at @darwineco.