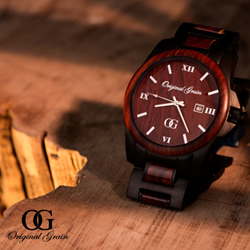 We wanted to introduce a watch to the market that was not only unique, but well built
(PRWEB) April 02, 2014
Original Grain, the premier maker of high quality, all-natural wood watches, is celebrating its first year in business after a very successful Kickstarter campaign. Original Grain wood watches are sophisticated and original made with quality wood and stainless steel. Initially starting with three styles, Original Grain now offers eight styles for both men and women.
Original Grain holds the spot as the 4th most funded campaign in the history of Kickstarter in the Fashion category. Within their 30 day campaign, Original Grain raised $390,977 and had more than 2,200 project backers. Since then, they have taken the #84 spot on Entrepreneur Magazine's Top 100 Crowdfunded Companies in 2013.
"We've had a very successful year and are looking forward to all the exciting additions being rolled out in 2014," said Original Grain Founder Ryan Beltran.
Original Grain is unique in the design and quality of their wood watches. Inspired by their roots growing up in the Pacific Northwest, the Original Grain Founders designed these watches using 100% all-natural wood and stainless steel.
"We wanted to introduce a watch to the market that was not only unique, but well built," said Beltran. "Other wood watches on the market simply don't have that 'real watch' feel."
When starting out, Original Grain offered three styles: Indian Rosewood, Green Sandalwood and Maple. Now they offer eight styles for both men and women and will soon be introducing more styles from their first line. Original Grain has BIG plans for the future including a major partnership making watches from re-claimed wood. They will also be offering other accessories aside from watches later this year.
For more information about Original Grain natural wood watches please visit http://www.originalgrain.com/
About Original Grain
Emerging from the minds of three men in three different settings (Hong Kong, California, and hometown Eugene), Original Grain wood watches are the next generation of wood watches for the modern man and woman. At Original Grain we make high-quality, well-designed timepieces from all-natural wood and stainless steel. Style is one thing, originality is another. #stayoriginal