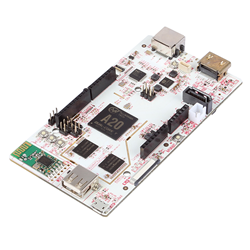 pcDuino helps us reduce time-to-market significantly of our thin client products.
Longmont, CO (PRWEB) April 03, 2014
LinkSprite announced today the company launched pcDuino3, a new addition to its pcDuino family. As a leader in the open source hardware community, LinkSprite's goal is to help students, hobbyists and professionals make new things, especially projects and products involving both software and hardware. "We are very excited about what pcDuino3 can offer, and look forward to seeing many interesting projects and products built around it.", said Jingfeng Liu, LinkSprite's CEO.
pcDuino3 is a high performance, cost effective single board computer. It runs operation systems such as Ubuntu Linux and Android. pcDuino3 has HDMI interface to output its graphic desktop screen. It could support multi-format 1080p 60fps video decoder and 1080p 30fps H.264 and MPEG4 video encoder with its built-in hardware video processing engine. It targets specially the fast growing demands from the open source community. pcDuino3 provides easy-to-use tool chains and is compatible with the popular Arduino ecosystem such as Arduino Shields.
The hardware specifications of pcDuino3 is as following. CPU: AllWinner A20 SoC, 1GHz ARM Cortex A7 Dual Core; GPU: OpenGL ES2.0, OpenVG 1.1, Mali 400 Dual Core; DRAM:1GB; Onboard Storage:4GB Flash, microSD card (TF) slot for up to 32GB; Video Output: HDMI 1.4 with HDCP support; OS: Ubuntu 12.04 and Android 4.4; Arduino extension interface: Arduino sockets, same as Arduino UNO 14xGPIO, 2xPWM, 6xADC, 1xUART, 1xSPI, 1xI2C; Network interface: USB WiFi and Ethernet 10/100/1000Mbps; Audio out: 3.5mm analog audio interface
and I2S stereo digital audio interface. It also includes a SATA host connector.
Software wise, it has a built-in Arduino style programming IDE and Scratch for pcDuino in additional to the programming languages such as C/C++, Python, Java, etc.
pcDuino3 is available at LinkSprite online store for purchase immediately for $77.00 each.
LinkSprite Technologies. Inc., headquartered in Longmont, CO, manufactures and sells open source software and hardware products, such as pcDuino, and accessories for Arduino and Raspberry Pi. LinkSprite also provides manufacturing services for makers and small businesses.