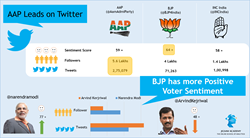 In this digital era, social media is believed to be a make or break deal for many political parties especially with the urban voters.
Bangalore, India (PRWEB) April 01, 2014
Come the 2014 Indian Elections, the race to the top is more evident on social media than other medium. Campaigning and interacting with potential voters seems to be a trend that most political parties are taking onto on social networking sites, such as Twitter and Facebook in the upcoming Lok Sabha Elections 2014.
Jigsaw Academy, a Bangalore-based, world-renowned Online Analytics training institute, shares an analysis of the data derived from Twitter on the general voter sentiments over the last 30 days.
The three parties slated to be frontrunners are the Bharatiya Janata Party(BJP), Indian National Congress (INC) and the Aam Admi Party (AAP). As per the statistics gathered from these parties official Twitter handles:

AAP has more than 5 Lakh followers with BJP closely following up at a 4 Lakh figure. On the other hand, Congress seems to be more silent with just 1 Lakh followers noted on their official Twitter handle.
The Twitter data observed over the period of 30 days suggests that AAP clearly leads the way in terms of social media activity compared to Congress and BJP.
However, one interesting trend to note would be that BJP has a more positive sentiment score associated with the twitter conversations even though overall numbers are low.
Arvind Kejriwal of the AAP party leads the tweet activity by about 33% compared to Narendra Modi of the BJP party.
o But clearly number of followers for Narendra Modi are 50% higher than Arvind Kejriwal which indicates a higher support base on Twitter for BJP's prime ministerial candidate.
o On the contrary, Rahul Gandhi of the INC has no official Twitter handle which is quite shocking especially when all political parties are increasingly looking towards social media as one of the key strategies to attract the urban voters.
Speaking on this occasion Mr. Gaurav Vohra, CEO, Jigsaw Academy said "In this digital era, social media is believed to be a make or break deal for many political parties especially with the urban voters. In two months from now, as the world's largest democracy goes to the polls at the 16th Indian General Elections, political parties are coming up with various strategies to return to power. Along with organizing mass political rallies and sharing attractive party manifestos, one of the latest strategies has been trying to influence the voter's perception through social media".
Even if you look at Twitter statistics at a single campaign level, Arvind Kejirwal attracted more activity compared to his counterparts. Towards the end of February 2013 around the same dates, Narendra Modi was in Punjab, Arvind Kejriwal was in Haryana and Rahul Gandhi was in Uttarakand, promoting their respective party's for the coming national elections.
About Jigsaw Academy
Jigsaw Academy, the online school of analytics, was founded in 2010 to provide quality training in the field of analytics and big data. Jigsaw's founders have over 20 years of combined experience in analytics and consulting across multiple industry verticals, having served with reputed companies both in India and the US.
Jigsaw Academy has trained over 5000 students across 20+ countries in the last 3 years. Their award-winning courses are well acknowledged in the industry and Jigsaw is the approved analytics training partner for various large organizations including Accenture, Infosys and Genpact.
Website: http://www.jigsawacademy.com
Blog: http://www.analyticstraining.com
Mail:info(at)jigsawacademy(dot)com
Phone +91-9243522277