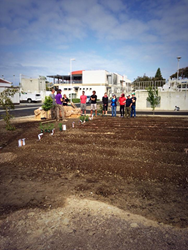 This type of natural fertilizer is a vital component to maintaining the high soil quality needed to yield healthy, nutrient rich crops on nurseries and farms in San Diego.
Carlsbad, CA (PRWEB) April 01, 2014
Today, the Encina Wastewater Authority (EWA) announced the launch of the test phase of its flagship PureGreen Demonstration Garden. The Garden will feature crops common in San Diego's commercial and craft agriculture economy including avocados, pomegranates, limes and tomatoes, and assorted herbs and lettuces. The goal of this garden is to provide for the scientific investigation, documentation, and reporting on the soil, agronomic, and nutritional benefits of a fertilizer regimen that includes using EWA's award winning PureGreen natural fertilizer. "PureGreen is a fertilizer rich in organic nitrogen, phosphorus and micronutrients. This type of natural fertilizer is a vital component to maintaining the high soil quality needed to yield healthy, nutrient rich crops on nurseries and farms in San Diego," said Kevin Hardy, General Manager of the Encina Wastewater Authority. "We are dedicated to making the best use of the public resources entrusted to our stewardship and helping to facilitate the resource recovery movement through transparent and comprehensive scientific testing of crops grown using PureGreen." The PureGreen Demonstration Garden was created, designed and is being built by community development firm Rising Tide Partners through guidance and partnerships with leading agricultural and community service organizations in San Diego County.
PureGreen
PureGreen fertilizer is manufactured using biosolids – the nutrient rich residual by-product of the wastewater treatment process. No different than composting, the application of human, chicken and cow manure to agricultural land is a historically common farming practice, though over the past 40 years has been replaced with chemical and petroleum based fertilizers. Human waste contains remnants of the fruits, grains and vegetables consumed by humans. These remnants then contain the micronutrients that are consumed by plants as they are grown.
Biosolids produced by Encina Wastewater Authority conform to the US Environmental Protection Agency's Class A Exceptional Quality Biosolids standards. EWA's state-of-the-art technologies heat the treated solids and create pellets about the size of a BB. EWA's treatment and heating process kills the bacteria, viruses, and other pathogens that are often found in biosolids, rendering an unrestricted use fertilizer rich in nitrogen, phosphorus and micronutrients. More information and quarterly reports are available on the PureGreen website.
Community Development
EWA is committed to creating unique new opportunities for businesses, non-profits, academic/research organizations and other community groups to carry out their missions through special projects at EWA's facilities. To manage this, EWA hired Rising Tide Partners, a community development firm based in San Diego to create and manage the EWA community engagement plan. "We've created a unique opportunity and series of partnerships and collaborative relationships with local organizations to test and design a demonstration garden. This space will ultimately provide a tangible, visual and scientific experience, helping EWA and its partners to communicate the incredible potential of PureGreen," said Jared Criscuolo, President of Rising Tide Partners. As part of this plan, the public will be able to join for volunteer days at the farm, tour the facilities and pick fresh fruit and vegetables from the PureGreen Garden. Some of the groups involved in the PureGreen Garden include the Mission Continues, Surfrider Foundation, San Diego Farm Bureau, and Stone Brewing Company. Updates and an upcoming schedule of volunteer days for people to learn about composting, soil preparation and growing techniques using PureGreen will be available on Facebook.
Founded in 1961, the Encina Wastewater Authority is an environmental leader in the wastewater treatment industry. EWA offers 4 products and services designed to provide sustainable and fiscally responsible wastewater services to the communities it serves while maximizing the use of alternative and renewable resources.