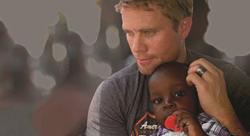 Help us save these precious lives.
Irvine, California (PRWEB) April 02, 2014
Child advocate Elizabeth Smart joins Operation Underground Railroad as the keynote speaker at a dinner gala hosted by Shady Canyon Country Club in Newport Beach, California. Elizabeth, who at age 14 was kidnapped into child sex slavery, will be speaking about her own ordeal, as well as her experience on the proposed rescue mission to Colombia, her experience delivering the Child Protection System software, and a significant arrest in Imperial County. She will also discuss her program, RADkids. This event will be an intimate evening for supporters to learn more about the work that Operation Underground Railroad is doing to rescue children from sex slavery and bring their traffickers to justice.
In addition to an exclusive meet and greet, former government operative, author, and Operation Underground Railroad founder, Timothy Ballard, will share personal experiences about his work in the field, where he extracts children from harm and brings them to safety. Mr. Ballard spent more than a decade as an undercover agent for Homeland Security, where he fought terrorism and Internet crimes against children. He is known nationally for inspiring audiences as a public speaker.
The evening will include a private viewing of footage from The Abolitionists, a documentary TV show produced by Gerry Molen of Schindler's List and Jurassic Park. This documentary exposes the $32 billion child sex trafficking business and follows Operation Underground Railroad's rescue missions. Mr. Molen will be in attendance to answer questions about his documentary.
Music will be provided by local Orange County musician, Kevin Bachelder.
The Operation Underground Railroad Gala will take place from May 31, 2014, from 6:30 p.m. to 9:00 p.m. at the Shady Canyon Country Club in Newport Beach. Seating is by invitation only. For more information, please contact Matt Cooper at matt(at)operationunderground(dot)org or 818-850-6146.