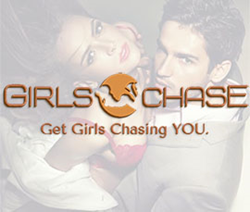 Tips include some advice that runs contrary to the suggestions of mainstream dating experts – such as that men ought to move fast with women they like, not "take it slow"
(PRWEB) April 03, 2014
This past weekend, Girls Chase unveiled a 67-minute presentation detailing the story behind and insights into its Mastery Pick Up Package, designed to turn ordinary men into dashing, irresistible Casanovas and expert date-getters, along with an updated and expanded version of the hit two-year-old program. The presentation can be seen on the website's Mastery page.
The new video presentation reveals some of the tips from Mastery that help men to grow their dating lives and get more dates, phone numbers, sexual partners, and relationships. Tips include some advice that runs contrary to the suggestions of mainstream dating experts – such as that men ought to move fast with women they like, not "take it slow", and do their very best to stay out of the "boyfriend zone", where women put the brakes on things in order to more carefully vet and assess potential mates, frequently preventing sex and relationships from ever occurring.
Despite its somewhat controversial nature, the presentation on Mastery has been so far well received.
When preparing the presentation, Girls Chase collected customer experiences from buyers of the program over the past two years it has been available, and has included these in its video and peripheral materials.
Jessie S. of Vancouver notes that the program, "gives logical, concise, and practical tools to use every time you go out. I found the package not only for short term use, but for finding potential life-long partners by getting HER attracted to YOU. Minimal effort, maximal results is what this yields."
Richard of New York City extolls the breadth of subject matter covered by Mastery, saying, "The Mastery Pick Up Package is honestly a complete guide on how to attract, meet, and seduce high-quality women. It has helped me become a more consistent and confident dater and definitely has improved my social life. It teaches everything from non-verbal communication to mindsets in approaching and courting women and makes everything very practical with hands-on approach."
"Mastery's done well for us," comments Chase Amante, founder of Girls Chase and the primary author of the material in the Mastery Pick Up Package. "Originally, it was a collection of our best products, but we've fleshed it out and added exclusive content to it that you won't find anywhere else, and really took what was already a strong offering and just made it stronger."
Included in the package are Amante's eBook How to Make Girls Chase and video program Spellbinding, along with episodes of the Seduction Sensei audio interview series, and several exclusive eBooks, Troubleshooting Your Game and The Fast Sex Construction Kit. The goal with Mastery is both to get men's dating lives up and running, says Amante, and to give them the tools they need to achieve as much success with women as they personally want to achieve.
"I wanted to build a program that gave men the tools to revitalize their dating lives, or even build them from the ground up, in whatever ways they themselves most wanted to," he says. "Based on the feedback we've gotten from users over the years, I feel comfortable saying we've done that."