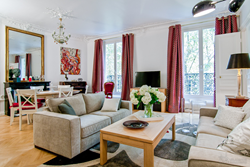 Paris, France (PRWEB) April 04, 2014
Glamour Apartments announced today that it now offers unparalleled personalized service for customers. It goes above and beyond the call of duty to make sure every client's stay in the City of Lights is everything they dreamed of, and more.
Glamour Apartments is a service that helps people rent apartments in Paris for vacations or short stays. When a person stays more than a night or two, or travels with a family or group of friends, hotels can be cost-prohibitive and renting an apartment for a week or two makes more sense.
For starters, every apartment represented by Glamour Apartments on their site has been fully inspected by the manager prior to making it available. They are all fully-equipped with the necessary appliances, Wi-Fi access, and other basic amenities. The photos on the site are genuine photos of the actual apartment the customer will experience it when he or she arrives.
All of the employees of Glamour Apartments are fluent in French, English, and Russian—enabling them to serve a range of both local clientele and tourists. A personal manager is assigned to each client, and that individual continues to work with the guest throughout the stay. Glamour Apartments employees can be reached via their personal cell phones, and if there are any problems the client can reach their personal manager 24 / 7 / 365. The Glamour Apartments office is located in downtown Paris, so an employee can show up quickly to deal with any issues that may arise.
Glamour Apartments recognizes that visiting a city like Paris can feel overwhelming. There are so many sites to see, and so much to do that it can be challenging to make sure a person gets to see and do everything they'd like to. At the same time, navigating around the city, and getting from Point A to Point B can be daunting for those who are not familiar with Paris or the public transportation options available. Glamour Apartments offers complete concierge services for clients—much of it free of charge. Glamour Apartments will pick up guests from the airport, organize tours of the city, arrange tickets for concerts or special events, and more.
For more information, visit the Glamour Apartments website, or call to speak with one of the knowledgeable Glamour Apartments agents.
About Glamour Apartments
Glamour Apartments is a real estate agency specialized in short-term and long-term Paris rentals services. We have more than 2000 apartments to rent in Paris: from small and functional studios to luxury apartments. More than 500 apartment owners trust us.