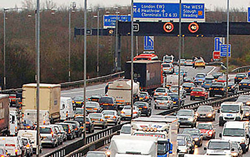 Plan ahead and check the traffic on your route before you leave!
(PRWEB UK) 2 April 2014
With the Easter holiday falling comparatively late this year and the weather currently looking set to be reasonably fine, it is expected that road traffic to coastal and holiday destinations will increase from the second weekend of April (11th-13th April) – the weekend before Easter.
Most schools in England and Wales start their Easter holiday on Friday, 4th April, with the Summer Term commencing immediately after the Easter Holiday on Tuesday, 22nd April. Many people will be taking a week's break during the week prior to Easter, and it is anticipated that "getaway" traffic on holiday routes may be significant over the weekend of Friday, 11th and Saturday, 12th April if the fine weather continues. During that weekend, traffic within the London area will also be busy because of the two FA Cup semi-finals at Wembley on Saturday and Sunday, and there will be road closures and restrictions in Central, East and South-East London on Sunday for the London Marathon.
There will still be heavy "getaway" traffic on Maundy Thursday, 17th April, mixing with the usual commuter traffic, and it is expected to be the busiest day on Britain's roads so far this year. During the morning, there will also be restrictions and road closures around Blackburn Cathedral, in Lancashire, for the Royal visit in connection with the Annual Maundy Money service. During the four days prior to Good Friday (14th-17th April) commuter traffic is likely to be less than usual, as some are likely to take their Easter break at that time.
Those heading away for the Easter weekend may defer their departure until early on Good Friday, 18th April, but from lunchtime onwards, traffic on that day is expected to be relatively quiet. After a fairly "normal" Saturday, Easter Sunday is likely to be very quiet on the roads, especially as major retail outlets are closed. On Easter Monday, 21st April, roads will become very busy with homebound traffic, from lunchtime onwards, as many schools resume the following day. Some may opt to take a full week's break during the week following Easter, so morning and afternoon commuter traffic during that week (22nd to 25th April) may be slightly less than usual.
Most roadwork on trunk routes will be completed prior to the Easter Holiday weekend, but long-term roadwork will be suspended over the Easter weekend in a manner to minimise traffic disruption. Local traffic congestion may also occur in areas where leisure events are scheduled, although there are comparatively few such events over the Easter weekend, the main events being motor-cycle racing and motor racing at Brands Hatch, Silverstone and Donington Park.
It is emphasised that prevailing weather conditions are likely to affect traffic conditions most significantly over the Easter period. In the event of a deterioration of weather – wet or wintry conditions – there are likely to be very few people taking an extended break away from home. If, however, the weather proves exceptionally fine, there is likely to be increased road traffic from day trippers to and from coastal resorts, especially over the Easter weekend.
"Getaway" routes likely to be very busy during late afternoon on Friday, 11th April, morning of Saturday, 12th April, and especially on Maundy Thursday, 17th April, and on Good Friday morning, 18th April:

M25 – all sections, both ways, especially between J10 and J17 (to & from Heathrow Airport and M4), and between J29 and J2 (around Dartford River Crossing).
M6 – both ways through West Midlands, between J4A (M42 and M6 Toll) and J11A (M6 Toll, northern end), also both ways between J15 (Stoke-on-Trent) and J32 (M55 for Blackpool).
M1 – northbound from J6A (M25 interchange) to J13 (Milton Keynes), and also both ways between J23A (East Midlands Airport) and J32 (M18 interchange). There may also be heavier traffic than usual from M1/J13 along A509 to Flitwick, due to the opening of the new leisure park at Flitwick.
M4 – westbound from J1 (Chiswick) to J13 (Chieveley & Newbury), and also westbound from J20 (M32 for Bristol) into South Wales
M5 - southbound from M6 interchange to J10 (M50), and also south-westwards from J15 (Almondsbury) to J20 (Weston-super-Mare), and onwards into Somerset and Devon.
M3 - south westwards from J2 (M25 interchange) to J6 (Basingstoke) and also southbound from J9 (A34 Winchester) to J13 (M27 Southampton).
A303 – westbound from M3 Junction 8 through Hampshire, Wiltshire and Somerset to A30 at Upottery, Devon.
A30 – westbound from M5 Junction 31 into Cornwall.
A11 – eastbound from Newmarket Bypass through roadwork at Elveden, to Thetford.
M27 & A31 – westbound from M3 at Southampton (M27/J5) to Ringwood (for Bournemouth) and to Dorset coast resorts.
M8 – both ways between J10 & J23 (through Central Glasgow).
A90 – north westwards from Edinburgh Ring Road (A720) to Forth Road Bridge and M90 in Fife.
These sections of road are also likely to be extremely busy (in the return direction where appropriate) with homebound traffic during the afternoon of Easter Monday, 21st April, possibly continuing on the morning of Tuesday, 22nd April.
"Day tripper" routes: In the event of exceptionally fine weather, the following routes are likely to see heavier traffic than usual due to day trippers (outward in morning, returning in evening) to and from coastal resorts (vehicle parking in the resorts may also prove difficult under these circumstances):

A12 between M25/J28, Colchester (for Clacton & Essex coast), Suffolk coast and Great Yarmouth.
A21 between M25/J5 and Hastings, for East Sussex and Kent Channel coast.
A23 between M23/J11 and Brighton, for West Sussex coast.
M3 and A31 between M25 and Ringwood (for Bournemouth)
A64 between York and Scarborough (for the East Yorkshire coast)
A82 between Clydebank and Alexandria (for Loch Lomond)
M6 between J29 (M61 interchange) and J36 (A590) and A590 to & from Lake District.
For more information about Trafficmaster's other services and a live view of traffic on the roads go to http://www.trafficmaster.co.uk/content/1/83/live-traffic-map.html alternatively phone for the latest traffic update from your mobile: dial 1740.
Traffic enquiries:
For traffic updates, Trafficmaster's control centre is on 01234 759 100 (available 24/7) and Michael Savage, Trafficmaster's Head of UK Networks, is available on 07730 922 800 for comment on the traffic situation.
http://www.trafficmaster.co.uk
-ENDS-
Media Contact:
Karen Sutton, Marketing Manager, Teletrac UK and Trafficmaster Ltd
Email: ksutton(at)teletrac(dot)com
About Teletrac® and Trafficmaster®
Teletrac is a partner in the Trafficmaster family. Already proven and trusted by more than 20,000 fleets of all sizes and tracking more than 250,000 vehicles globally, Teletrac saves fleet owners time, money, and reduces their carbon footprint. Teletrac customers report up to 30% lower fuel usage, an average of 15% less driver overtime, 12% higher productivity and less unauthorised vehicle use.
Trafficmaster maintains a unique network of traffic monitoring sensors, generating high quality real-time traffic information on the UK motorway and trunk roads. Live traffic information is provided to customers via RDSTMC, premium rate telephone services, the internet and various data feeds.
Teletrac provides, Fleet Director, their fleet management solution in the UK, which combines all of Trafficmaster's intelligent technology, including Trackstar Stolen Vehicle Tracking, to help businesses become more efficient whilst reducing the environmental impact of driving.
For further information visit http://www.trackstar.co.uk, http://www.trafficmaster.co.uk, or http://www.teletrac.co.uk