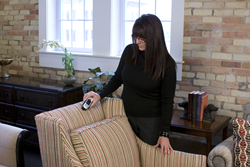 Grand Rapids, Michigan (PRWEB) April 01, 2014
X-Rite, Inc. and its wholly owned subsidiary Pantone LLC will demonstrate new solutions for the measurement and management of color at the American Association of Textile Chemists and Colorists 2014 International Conference to be held April 1-3 in Asheville, N.C.
X-Rite Pantone representatives manning tabletop #3 at the exhibition room of the Crowne Plaza Resort will explain features of hardware and software solutions that range from the newly introduced Ci4200 compact benchtop spectrophotometer to the SpectraLight QC Light Booth for accurate color assessment and matching for textiles.
The Ci4200 is X-Rite's response to customers' needs for a small, easy-to-use and flexible benchtop spectrophotometer that offers tighter controls of color for incoming materials, in-process samples and finished goods. The Ci4200 is also available with a UV lamp (Ci4200UV) for accurate color measurement of textiles that contain optical brightening agents.
Company representatives will also have information on the SpectraLight QC light booth that offers more standardized illumination sources than any visual assessment QC solution on the market, correctly replicating the lighting that one would find in natural daylight, at the shopping mall, at home or in other settings.
With the purchase of a SpectraLight QC light booth, customers receive access to the X-Rite Visual Color Assessment Institute, which introduces vendors and brand owners to best practices and standard operating procedures for the visual evaluation of color. The Institute provides easy-to-understand materials that explain the basics of color theory and special topics that apply to the visual evaluation of color. Participants study at their own pace, then take self-administered tests online to earn a certification in best practices for visual evaluation of colors.
In addition to the SpectraLight and Ci4200, other solutions that will be highlighted at the conference include:

RM200QC – A compact and easy-to-use portable spectrocolorimeter for quick and easy quality control of color.
CAPSURE - Capture color inspiration from any surface, material or fabric with this pocket-sized spectrocolorimeter that matches measurements accurately to PANTONE™ Colors.
Pantone SMART Swatches - 2,100 individual fabric swatches for Fashion + Home provide clear visuals when specifying, controlling, and communicating textile choices.
Color iMatch - Quick, accurate color analysis and color formulation system for textiles.
Color iQC - Color quality control software that removes the guesswork from evaluating colors, which simplifies processes and increases efficiency while ensuring accurate color control.
For more information, please refer to the http://www.xrite.com website.
About X-Rite
Founded in 1958, X-Rite, Incorporated is a global leader in color science and technology. With its wholly owned subsidiary Pantone, X-Rite employs more than 800 people in 11 countries. The company's corporate headquarters is located in Grand Rapids, Mich., with regional headquarters in Europe and Asia and service centers across Europe, the Middle East, Asia, and the Americas. X-Rite Pantone offers a full range of color management solutions used by manufacturers, retailers, printers, photographers and graphic design houses to achieve precise management and communication of color throughout their processes. X-Rite Pantone products and services are recognized standards in the printing, packaging, photography, graphic design, video, automotive, paints, plastics, textiles, dental and medical industries. For further information, please visit http://www.xrite.com.
About Pantone
Pantone LLC, a wholly owned subsidiary of X-Rite, Incorporated, has been the world's color authority for nearly 50 years, providing design professionals with products and services for the colorful exploration and expression of creativity. Always a source for color inspiration, Pantone also offers paint and designer-inspired products and services for consumers. More information is available at http://www.pantone.com. For the latest news, trends, information and conversations, connect with Pantone on Twitter, Facebook and Pinterest.
©2014 X-Rite, Inc. All rights reserved. X-Rite is a registered trademark of X-Rite, Inc. All other trademarks are the property of their respective owners. PANTONE® and other Pantone trademarks are the property of Pantone LLC. © 2014. All rights reserved.