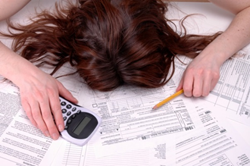 The Woodlands, Texas (PRWEB) April 02, 2014
Personal Luxury Resorts & Hotels® and its sister brand, Benchmark Resorts & Hotels®, have announced Tax Day Relief Travel Packages & Promotions available on or near Tax Day (Tuesday, April 15) or for the entire month of April. The packages and specials offer a way to ease the pain of a stressful tax season with savings on hotel getaways, spa treatments, specialty cocktails, and more.
Select hotels within Personal Luxury Resorts & Hotels ® will offer the following Tax Day Relief promotions:
BOKA restaurant + bar at downtown Seattle's Hotel 1000 will offer all day Happy Hour pricing on April 15th, along with the launch of its new Income Tax Cocktail. The citrus-sweetened mix of gin and vermouth is great for taking the edge off during tax season, but it goes down easy any time of year and is available for $10.40. http://www.bokaseattle.com/
Income Tax Cocktail Recipe:
1 1/2 oz. gin
3/4 oz. dry vermouth
3/4 oz. sweet vermouth
Juice of 1/4 orange
2 dashes Angostura bitters
Ice cubes
Shake, strain, garnish with an orange wheel and serve in cocktail glass.
Costa d'Este Beach Resort & Spa, Gloria & Emilio Estefan's luxury beachfront resort in the charming town of Vero Beach in central Florida's Treasure Coast, invites guests to take reprieve this tax season with its Tax Relief Package & Specials:
Costa's Tax Relief Package features three nights in luxury accommodations, including taxes, resort fee, daily beach set up (one umbrella and two lounge chairs) and breakfast for two at the total for $1099.00 per room for two. Book by April 15th and stay by April 30th.
Guests may take "shelter" and truly liberate the soul, at one of its two bars and sip on the "W2" cocktail for $10.40, or rejuvenate in its full-service spa with the "Deduction" of stress massage for $109.90. http://www.costadeste.com
Hunt Club restaurant at Seattle's historic Sorrento Hotel will celebrate Tax Day Relief Night in its bar by offering all-night Happy Hour and a collection of Tax Day themed cocktails, priced on a sliding scale, based on the specific tax day situation in which patrons find themselves. These specials are available on April 15th only. http://www.hotelsorrento.com/
Writing a Check: A Shot & A Beer - $6
Even Steven: Signature Hunt Club Manhattan - $8
Expecting a Refund: Martini & Oysters - $10
Mister Collins at ONE Bal Harbour Resort & Spa in tony Bal Harbour, Florida ("where the 1% lives") realizes that, around tax time, more money means more problems. In light of this, it will offer one cocktail and one appetizer of choice, for $10.99. This tax-time bonus is limited to one per person and available from April 11 – 15, 2014. In addition, The Spa at ONE Bal Harbour offers further relief this tax season with a month-long special. Relief-seekers may choose any of the following two 25-minute, express relief spa experiences for only $109.99: Scalp Massage, Foot Massage, Refresher Facial, Back Massage or Hand Massage. This offer is valid Monday through Friday during the month of April. http://www.onebalharbourresort.com.
Morada at The Inn at Rancho Santa Fe is rewarding the hard work of completing taxes by offering the following on April 15th only: Happy Hour prices all day in Morada's Bar: Featuring fine fare such as flatbread pizzas for $6, Kobe beef sliders for $6, hand crafted cocktails for $7, draft beers for $5 and select glasses of wine priced between $5 and $9.
In addition, there is no corkage fee on wine: Guests are invited to bring in their own bottle of wine or bubbly they've been saving for a special occasion. Morada will not be charging corkage fees on Tax Day. Morada will also feature 20 bottles of wine priced under $30. http://www.theinnatrsf.com/
Naples Bay Resort & Spa in Naples, Florida offers taxpayers two incredible Tax Relief specials available for the entire month of April 2014:
Three EZ Nights Package for just $1040. The getaway includes: three nights for $1040 (inclusive) in a one bedroom Marina View suite, no resort fee, complimentary breakfast for two daily, complimentary Wi-Fi and shuttle service to the beach.
"Schedule A" 50-Minute Deep Tissue Tax Relief Massage for just $109.90. Additionally, on Tax Day only, the Spa will offer $10.99 savings on any "Spa To Go" Eminence Organics skincare product ($50 or more). To reserve service appointment call 239-530-5113 or visit http://www.naplesbayresort.com
Willows Lodge, a romantic retreat nestled in the heart of Woodinville Wine Country just 30 minutes East of Seattle, will offer its 1099 EZ Getaway Package for the month of April. The package retails for $1,099, including room tax, and features the following:
Two nights in a luxurious Nicer-style guestroom
One relaxing couples massage at The Spa at Willows Lodge
Wine tasting in Fireside, its newly renovated and expanded lobby bar
A $100 dining credit to its award-winning Barking Frog restaurant
Breakfast for two at Barking Frog or via in-room dining
Room tax included - http://www.willowslodge.com/
The Villas of Grand Cypress in Orlando, Florida welcomes guests to ask for an extension and decide on their own deduction with its Assessed Value Package, where guests may reap dividends up to 35 percent off their entire stay. Guests save 25 percent on four to six-day stays and 35 percent on stays of seven days or longer now through the end of 2014. http://www.grandcypress.com.
Select hotels within the Benchmark Resorts & Hotels™ offer the following Tax Day promotions and packages:
Cheyenne Mountain Resort & Country Club in Colorado Springs is offering guests its Tax Day Refund Promo, a 72-Hour Flash Sale (on 4/14 to 4/16 only) with 25% off resort rate, upgrade to next available room type, guaranteed late check-out, $18 resort fee and a Mystery Bonus Resort Credit of $5-$100: Upon check in guest will "draw from a hat" their tax refund resort credit. This will be anywhere between $5 and $100 to be spent on food and beverage, retail, golf and is valid for stays between 4/14-6/26.
Additionally, the resort will feature "Tax Day Cocktails" at Will Roger's Lounge inviting patrons to spend their hard-earned cash or toast to their refund with a selection of cocktails available for 4 hours and 15 minutes starting at 4:15 p.m. all for just $4.15. They include the Money Maker Martini, Uncle Sam's Revenge, "In the Black" Russian, "In the Red" Bloody Mary and IRS Blues Martini. http://www.cheyennemountain.com/.
Eaglewood Resort & Spa located in the Northwest suburbs of Chicago is offering a Tax Weekend Getaway Package available the weekend before tax day, April 11 to 14, 2014. The resort will offer an overnight in a Golf View room for $129 and the option to add on the following experiences for only $10.90:
Breakfast buffet
Cheese Pizza in Kegler's Lanes & Pizzeria
One hour of Cosmic Bowling
Two house draft beers
A round of golf with cart - http://www.eaglewoodresort.com/
# # #
About Personal Luxury Resorts & Hotels®
Personal Luxury Resorts & Hotels® includes unique hand-picked properties in spectacular U.S. destinations coast to coast. Each hotel and resort delivers personal luxury in a spirit true to its own distinctive locale, yet in keeping with the collection's shared mission. They represent a select portfolio of Benchmark Hospitality International®, which has been a leading US-based hospitality management company for over 30 years. Personal Luxury Resorts & Hotels is the preferred choice of guests who yearn for transformation over accommodation, customization over conformity, and inspiration over predictability. With Personal Luxury Resorts & Hotels, luxury is always personal. http://www.personalluxuryresortsandhotels.com. To become a fan on Facebook, visit http://www.facebook.com/PersonalLuxuryResortsandHotels, or follow us on Twitter at http://www.twitter.com/PersLuxResorts.
About Benchmark Resorts & Hotels®
Benchmark Resorts & Hotels® represents the finest in lodging, dining, recreational and meeting accommodations. Many are certified by the International Association of Conference Centers, the leading professional organization governing the multi-billion dollar conference center industry on five continents, and many have also been recognized with the coveted Benchmark Conference Centers® certification of meeting excellence. Benchmark Resorts & Hotels deliver highly specialized service that anticipates guests' needs and ensures a hospitality experience unsurpassed and long remembered. http://www.benchmarkresortsandhotels.com. To become a fan on Facebook, visit http://www.facebook.com/BenchmarkResortsandHotels, or follow us on Twitter at http://www.twitter.com/BenchmarkHotels.