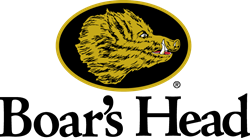 Sarasota, Fla. (PRWEB) April 02, 2014
Boar's Head Brand® invites families to spring into the new season with delicious dishes featuring Boar's Head Brand Sweet Slice® Boneless Smoked Ham. A must-have for family meals this season, Sweet Slice Ham is delicately smoked, fully cooked and boneless to make carving and serving quick and easy. Paired with Boar's Head Brand Brown Sugar & Spice Glaze as a centerpiece for Sunday dinner or served with waffles for a more unique dish like Ham & Cheddar Waffle Bites, Boar's Head Brand Sweet Slice Ham makes for a tasty meal any time of day.
"Whether families are celebrating warmer days or time-honored traditions, a delicious meal is essential for an enjoyable holiday," said RuthAnn LaMore, director of communications for Boar's Head Brand. To ease entertaining, Boar's Head recommends a few dishes for springtime celebrations and family gatherings that are simple to prepare."
Enjoy Sweet Slice Ham in any of the following family-favorite recipes, courtesy of Boar's Head Brand:

Flavorsome Breakfast: Kick-start the morning with this Sweet Slice Hash Browns recipe. This delectable breakfast option combines sautéed green peppers, onions and potatoes with delicious Boar's Head Brand Smoked Gruyere and Sweet Slice Ham.
Lavish Lunch: For a lighter lunch, try this scrumptious Sweet Slice Ham & Cheddar Salad. Sure to be a lunchtime favorite, this salad tastefully combines Boar's Head Brand Canadian Cheddar Cheese and Sweet Slice Ham with blueberries and arugula.
Delightful Dinner: Delicious and hearty, this Sweet Slice Ham & Cheddar Cheese Casserole will delight the whole family. Made with just a few steps, dinner will be served in no time.
Boar's Head Brand is available at select supermarkets, gourmet stores and fine delicatessens nationwide. For more information about Boar's Head Brand and recipes, please visit boarshead.com or like us on Facebook, facebook.com/boarshead.
About Boar's Head Brand®
Founded in 1905, Boar's Head Brand has upheld a commitment to unwavering standards for quality for over a century, refusing to take shortcuts that compromise the integrity of its products for the sake of convenience or economy. What started with just a few products has grown to over 500, ranging from premium delicatessen meats, cheeses and condiments to an array of Italian and Old World Delicacies and foodservice items. All Boar's Head Brand meats, cheeses and condiments contain no fillers, by-products, artificial colors or flavors, gluten or trans fat. For more information, visit boarshead.com or facebook.com/boarshead.