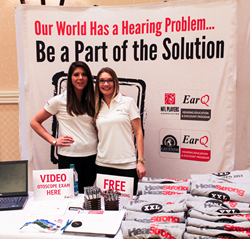 ...we were able to find answers for the players with hearing difficulties and start them on the path to finding the right solution. -Ed Keller, president of EarQ
Syracuse, NY (PRWEB) April 02, 2014
For the third consecutive year, representatives from EarQ worked with members of the NFL Players Association (NFLPA) during their annual conference to discuss hearing loss, its advanced solutions, and how they can encourage others to make hearing health a priority.
From March 19-22 in Orlando, FL, the EarQ team discussed the benefits of hearing better with the players and their family members and provided free hearing screenings and video ear inspections.
The team also assisted members in finding their local provider so they can continue their journey to hear better upon their return home. EarQ is a member discount program provider for the NFLPA.
"Partnering with the NFLPA to improve hearing education for their players and the growing number of Americans who could benefit by hearing better is a very important focus of EarQ's commitment to help people reconnect to their lives," said Ed Keller, president of EarQ. "At the NFLPA annual conference, we were able to find answers for the players with hearing difficulties and start them on the path to finding the right solution."
About EarQ:
EarQ strives to revolutionize the hearing healthcare industry through innovative business and marketing practices, national public awareness efforts and advocating for excellence in private patient care. Through its nationwide hearing healthcare providers, EarQ will shatter the stereotypes surrounding hearing loss and empower the millions of Americans who experience it to take control of their hearing health.
http://www.earq.com
Like us on Facebook.
Follow us on Twitter.
About the NFL Players Association
The National Football League Players Association (NFLPA) is a non-profit, professional sports union that protects the best interests and welfare of all NFL players. It serves as the exclusive bargaining agent for all NFL players in collective bargaining. Established in 1956, the NFLPA has a long history of assuring proper recognition and representation of players' interests. The NFLPA is governed by a Board of Player Representatives, acting in accordance with the NFLPA Constitution and federal labor laws. The NFLPA's responsibilities include: Representing all players in matters concerning wages, hours and working conditions and protecting their rights as professional football players; ensuring that the terms of the Collective Bargaining Agreement are met; negotiating and monitoring retirement and insurance benefits; providing other member services and activities; providing assistance to charitable and community organizations; enhancing and defending the image of players and their profession, on and off the field. For more information, visit http://www.NFLPlayers.com.