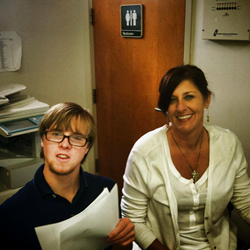 Joel is able to help the hospital reach it's goal of becoming paperless.
(PRWEB) April 03, 2014
Last summer, the vocational department at Easter Seals Southern Georgia received Family Support funding to provide Supported Employment in rural areas. One of the first calls was to Mr. Matney, the CEO of Colquitt Regional Medical Center, in Moultrie, Georgia. Easter Seals has been working with The Project Search group for 3 years and have developed a working relationship with Mr. Matney and his staff.
Recently, Mr. Matney shared that he had gathered a long list of individuals that were unemployed and had graduated with a special education certificate. He also shared that he would love nothing more than to put some of these people to work at the hospital but needed Easter Seals help with providing job coaches. Easter Seals and Colquitt Regional Medical Center, the Project Search teacher, 3 department heads, YMCA mentoring director, YMCA mentor volunteers and parents of young people with disabilities all met to discuss what was needed for these individuals to become paid successful employees at Colquitt Regional Hospital.
The team identified 5 individuals that met the criteria for the services. Then an individualized work plan was created that identified the services needed, addressed barriers and discussed jobs that the individual was interested in. The team then went to the department heads of the hospital and found suitable jobs for those individuals. The job coaches spent the necessary time with each individual in order for them to learn the job they were to complete. Once the job coaches felt the individual was able to work independently, they started decreasing the time spent with that participant. Currently each participant is working on their own 75%- 85% of the time. Of the five participants, two have been hired and placed on the payroll at the hospital. The remaining three will continue in the Community Work Adjustment program until they are ready. The goal is to have the remaining three hired by the end of August.
The group is already working on identifying other individuals in the community that need assistance with becoming employed. Mr. Matney has announced that he has identified these positions four additional jobs that are available and would like Easter Seals to fill. It is an exciting opportunity to work with the community and the hospital and assist these individuals with attaining their goals and dreams. One of the individuals who was hired is Joel. Here is his story:
Behind the Emergency Room in Colquitt Regional Hospital you will find an office that handles a lot of very important business. In that office you will also find Joel Reeves. Joel Reeves is 23 years old and has Down's syndrome. Joel and his family have never allowed his disability to stop him from making his dreams become a reality. When Joel graduated from high school his dream was to work in an office setting and to live in his own apartment. Both of his dreams have become a reality. With the funding that Easter Seals has received job coaches have been able to train Joel to assist the hospital in becoming paperless. Joel has a very important job and is very good at what he does.
When Joel began staff knew that with the proper training, that he was capable of learning the job, but staff didn't know if his quantity of work would be suitable. Joel works very hard but is slow in moving and completing tasks. After two weeks of training, the hospital and Easter Seals conducted a time study and discovered something very interesting. Joel was able to meet and exceed the amount of work that he needed to, in order to be hired for that position. Some found it hard to believe that Joel was able to do just as much or more work than the others in his office. After further research, Easter Seals staff found that Joel works continuously and is not easily distracted. Joel does not talk to his coworkers and does not use his cell phone until break or lunch. He makes very good use of his time at work and that makes a huge difference. Joel has his own apartment and lives independently. Everyone is very proud of all Joel has accomplished in his short time of training.
Easter Seals Vocational Services provides employment opportunities to individuals with disabilities or special needs by offering a variety of trainings and services to assist them in becoming work ready. Easter Seals Southern Georgia is a non-profit organization that has been providing community support services in the 54 counties in southern Georgia. For more information about Easter Seals Southern Georgia, go to http://southerngeorgia.easterseals.com.