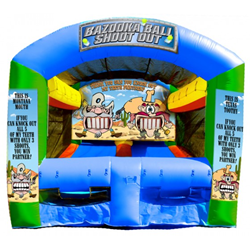 These units are great for children, but they are also perfect for adults and parents who want to join in on the fun at birthday parties, festivals, fairs, carnivals, corporate events, block parties, and so much more
Los Angeles, California (PRWEB) April 01, 2014
The Bazooka Ball Shoot Out is making its debut at the American Inflatable Road Show this week, the largest inflatable trade show in the world. The AIR Show, founded in 2012 with the support of leading US manufacturers, is the only show dedicated entirely to the inflatable industry. The AIR Show is the only place where you can find the latest and the most creative designs at special show discounts introduced by the leaders in the industry.
Bazooka Ball Shoot Out offers a hands-on, interactive experience that allows two players to compete against one another by shooting at targets with low impact two-inch foam balls from a patent protected soft air gun. The entire inflatable unit is themed to activate the players' imagination. Custom environments like entertaining western cowboy, circus clowns, and zombie city are all available. Each unit contains six resettable targets for prolonged playtime in a competitive environment that is both fun and safe. Each Bazooka Ball Shoot Out also contains an automatic ball return for faster and easier reloading.
"These units are great for children, but they are also perfect for adults and parents who want to join in on the fun at birthday parties, festivals, fairs, carnivals, corporate events, block parties, and so much more," said Steve Nero, CEO, eInflatables Bazooka Ball Shoot Out joins the Gunsmoke Shooting Gallery which also allows individuals or teams to compete against one another to engage and entertain even more participants. "These units can be used year round so they make for a great addition and will extend the earnings for any inflatable or party rental company," added Nero.
ABOUT EINFLATABLES
An industry leader in safety, eInflatables is passionately committed to providing both safe and quality products that are always made in the USA. For more than 17 years, eInflatables has offered the best inflatable rental products in the business, emphasizing innovation and quality. Additional information is available at http://www.einflatables.com, or by calling 1-800-569-0719.