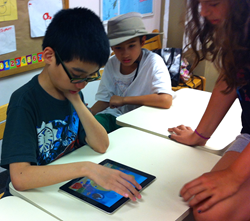 NameGames gives children with Autism an opportunity to recognize people in a valuable way and fosters the skills they need to connect the pictures with the closest people in their lives. -Andrea Albert, Program Coordinator at 3L Place
New York, New York (PRWEB) April 02, 2014
NameGames, an educational app for Apple and Android devices, releases a study about its benefits for the Autistic community. The award winning app strengthens relationships by teaching children the names and faces of loved ones. NameGames is recognized as an industry leader and was featured in the March edition of Parents Magazine.
"NameGames gives children with Autism and other developmental disabilities an opportunity to recognize people in a valuable way and fosters the skills they need to connect the pictures with the closest people in their lives," says Andrea Albert, Program Coordinator at 3L Place, a program for young adults with developmental disabilities.
Dr. Lippman, a cognitive and learning scientist, conducted a study to learn how the app helps children on the Autism spectrum who struggle with facial recognition, emotional expression, and social interaction. With the help of Camp Haverim, a summer camp for children with special needs, children played with the app under the guidance of trained staff members who we later surveyed.
The results were very encouraging. Teachers were elated that every child expressed excitement during gameplay and demonstrated relevant emotional responses. When commenting on onechild's progress, a staff member said, "One of the less vocal campers was yelling out the names of his fellow campers after playing with NameGames for just 15 minutes."
Furthermore, almost all (86%) of the children who played with the app engaged in positive social interactions such as sharing, cooperating, and turn-taking. "Sharing and cooperative play evolved organically," stated Shelley Levy, director of Camp Haverim. "The more social campers took pride in helping the less verbal kids play with the app. The activity also reinforced 'time on task', keeping the campers engaged with positive reinforcement and cooperation."
In response to these results NameGames is designing a new app that will help children explore relationships. Many autistic children have trouble understanding how people are connected to them. The new app will go beyond associating name and faces, teaching the child how they are related to each of the important people in their life.
The use of the app at Camp Haverim was a major success and the campers continued to ask to play with the app long after the study had concluded. NameGames has just scratched the surface of how it can help children with a range of cognitive capacities including those diagnosed with Autism Spectrum Disorder.
The study White Paper is located here.
For more information, visit http://www.pictoosnamegames.com.
Full documentation regarding the research and application of learning principles in NameGames can be found on http://www.pictoosnamegames.com.
Download the app:
iPad, iPhone: http://bit.ly/PictoosNameGamesiOS
Android: http://bit.ly/PictoosNameGamesAndroid
About NameGames, LLC
NameGames takes learning and makes it personal. Our unique edutainment products strengthen important relationships between children and their loved ones by engaging them in shared, rewarding experiences. Each game has been carefully crafted by our team of PhDs, specializing in cognitive psychology, learning and development, alongside top notch programmers with years of gaming experience.
About Camp Haverim
Camp Haverim at the Guttenberg Center for Special Services started its summer program in 1994. We are dedicated to the belief that all individuals are entitled to participate in appropriate social, recreational, cultural and educational experiences whenever possible in natural community settings with appropriate, natural supports. Programs are designed to meet the wide range of specific needs of our participants.
About 3LPlace
3LPlace empowers adults with autism and other developmental disabilities to lead meaningful, gratifying, healthy and connected lives, while easing their loved ones of worry and isolation. In an exciting collaboration with Tufts University, Jewish Family & Children's Services and over 25 master educators, therapists and clinicians, 3LPlace has developed a state of the art, comprehensive transition curriculum to guide individuals with autism through the transition to adulthood.