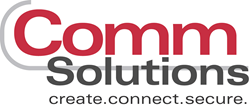 Malvern, PA. (PRWEB) April 02, 2014
The Top Workplaces are determined based solely on employee feedback. The employee survey is conducted by WorkplaceDynamics, LLP, a leading research firm on organizational health and employee engagement. WorkplaceDynamics conducts regional Top Workplaces programs with 40 major publishing partners across the United States. Over the past year, more than 5,000 organizations and 1 in every 88 employees in the U.S. have turned to WorkplaceDynamics to better understand what's on the minds of their employees. Through its workplace improvement offerings, WorkplaceDynamics provides solutions, training and tools to help clients improve their workplace.
Comm Solutions excels at offering ever-changing and complex, cutting edge network technologies to their clients. The company's success is based on the achievements of our customers and the professionals within Comm Solutions that lead the way to our growth. The Comm Solutions organization of 2014 is more skilled, professional, and effective than ever before and will continue to strive to surpass expectations of our clients. Comm Solutions is an organization that encourages teamwork and realize that it takes a team to be successful.
"Comm Solutions is excited to be recognized as one of the top workplaces in Philadelphia, it is an achievement that the company will continue to strive for each year and that we take great pride in attaining. It is remarkable to truly learn that our employees feel so positively about their experience within the organization, it is something we have hoped for but to see it on paper makes it even more valuable" says Paul Black, CEO of Comm Solutions. "We believe that by enabling our employees to flourish and grow, it will continue to foster high levels of employee satisfaction leading to a better customer experience."
Philly.com published the complete list of Top Workplaces on March 21. For more information about the Top Workplaces lists and WorkplaceDynamics, please visit http://www.topworkplaces.com and http://www.workplacedynamics.com.
Comm Solutions Company
Comm Solutions Company is an end to end technology solutions provider specializing in the design, development, deployment, and support of enterprise level solutions for servers, storage and infrastructure in the corporate, education, government and healthcare markets. Our goal is to work with our clients to help them identify what is best for their architecture and the needs of their company.
Comm Solutions maintains excellent alliances with "Best in Class" technology vendors, to see a full list of our partners please visit our website. The highly skilled and certified specialists at Comm Solutions understand how to leverage these technologies to shorten deployment cycles. As advocates for clients, Comm Solutions strategically aligns their clients' business and IT objectives to provide the best overall value and ROI on technology deployments.
####