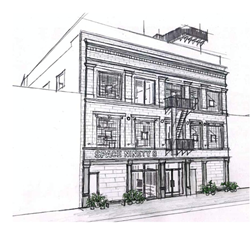 Philadelphia,PA (PRWEB) April 01, 2014
On Friday, April 4th, 2014, Urban Outfitters opens the highly anticipated Space Ninety 8. Similar to Space 15 Twenty in LA, Space Ninety 8 is far from a traditional retail experience. The 4-story converted warehouse building located at 98 N. 6th Street in Williamsburg, Brooklyn serves as a multi-component space.
Upon entry visitors will find themselves immersed in a collection of artisanal designs by over 40 local independent designers, artists and craftspeople. This main level, known as the Market Space, will showcase the best of Brooklyn-based creators. Brands such as Dusen Dusen, Salt Surf, Cold Picnic, Lila Rice, Lynn & Lawrence and many more are featured in this rotating collective of evolving makers. The Market Space will also feature an extensive collection of Urban Renewal Vintage items.
The second floor is home to Urban Outfitters Women's apparel and accessories, followed by Men's apparel, the Vinyl Shop, Electronics and Home Goods all on the third floor. Also located on the third floor is The Gorbals Restaurant and Bar. Top Chef and host of Esquire TV's Knife Fight, Ilan Hall brings his popular LA eatery to his home state of New York, offering a unique spin on Israeli and Scottish inspired dishes. Top Deck will be an extension of The Gorbals, offering a rooftop bar and outdoor dining area.
Located in the lower-level of the building, Gallery 98 will host several rotating pop-ups throughout the year. The first, adidas Originals Blue | Space Ninety 8 featuring Jason Woodside, will feature custom artwork and items from the adidas Originals Blue Spring/Summer 2014 collection. The adidas Originals Blue collection is a premium apparel and footwear line combining adidas' impeccable lifestyle heritage with a luxury street aesthetic. Brooklyn-Based painter Jason Woodside has created custom artwork for the adidas Originals Blue pop-up space, which will be on display for 6 weeks beginning April 4th.
To learn more about Space Ninety 8 and to get a full list of planned events, showcases, pop-ups and news, visit http://www.spaceninety8.com. Contact Crystal Carroll at ccarroll(at)urbanoutfitters(dot)com for more information.
About Urban Outfitters:
Urban Outfitters is an eclectic lifestyle retailer dedicated to inspiring customers through a unique combination of product, creativity, and cultural understanding. Founded in 1970 in a small space across the street from the University of Pennsylvania, Urban Outfitters now operates over 200 stores in the United States, Canada and Europe, offering experiential retail environments and an eclectic mix of curated women's, men's, accessories and home product assortments. For more information visit Urban Outfitters on the web at http://www.urbanoutfitters.com.