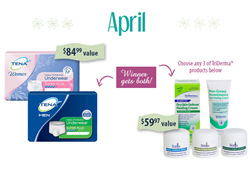 Neenah, WI (PRWEB) April 02, 2014
The CareGiver Partnership announces its April "Helping You Get On With Life" sweepstakes includes one case of TENA heavy protection underwear and three skin care products, says Lynn Wilson, founder of the national online retailer of incontinence products and other home health care supplies.
"The TENA products we've chosen for this month's prize bundle are ideal for men or women with moderate to heavy incontinence who want the look and fit of regular underwear," says Wilson.
TENA heavy protection underwear for women look and feel more like regular underwear than adult diapers. Their cottony stretch fabric provides a close, comfortable fit that's less noticeable under clothes. These super-plus absorbency underwear come in three sizes to fit waists 28"–64". A case includes 56–72, depending on size chosen.
TENA heavy protection underwear for men are anatomically designed to look and feel like regular men's underwear while providing super-plus absorbency. They absorb up front where men need it most and feature cottony-soft material, odor protection and a comfortable waistband. Two sizes accommodate waists 34"–64". A case includes 56–64 units, depending on size chosen.
"In addition to cases of premium TENA products, our winner gets to create a skin care package of three products from our TriDerma line of medical-grade healing creams for body and face," says Wilson.
TriDerma products promote fast, effective skin healing without the side effects and expense of prescription drugs. Made with organically grown, biologically active ingredients, products are natural anti-inflammatories, antiseptics and analgesics, with no cortisone or steroids. The winner can choose three products from TriDerma's line, which includes Dry Skin Defense Healing Cream, Non-Greasy Incontinence Fast Healing Cream, Facial Redness Repair or Eczema Fast Healing Cream.
For a chance to win this month's prize package, valued at $144.96, participants need only e-mail info(at)caregiverpartnership(dot)com or mail a short statement explaining why the prize would be useful to him or her or a loved one. The CareGiver Partnership will accept entries for this prize through April 30, 2014, and will notify the drawing winner the first week of May.
Visit The CareGiver Partnership to learn more about the sweepstakes, try sample products before buying, use the online Incontinence Product Finder tool, download a free fall prevention guide, and access more than 1,500 caregiver resource links and hundreds of articles.
The CareGiver Partnership is a national direct-to-consumer retailer of home healthcare products for incontinence, diabetes, nutrition support and more. In its eighth year of providing products and services that help caregivers and loved ones maintain personal dignity, the company also offers an online library of more than 1,500 family caregiver resources and personal service by experts in caregiving. Call 1-800-985-1353 or visit online at caregiverpartnership.com.