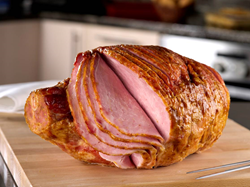 Perfect for Easter Sunday
Oklahoma City, OK (PRWEB) April 02, 2014
Easter Ham with Mustard Sauce
1/4 cup golden brown sugar, packed
1 tablespoon Garden Club Apple Cider Vinegar
1/2 cup Seikel's Oklahoma Gold Mustard
1 Schwab's Hickory Smoked Spiral Ham
In a small bowl, whisk brown sugar and apple cider vinegar until sugar dissolves. Whisk in mustard. Season sauce to taste with salt and pepper. Cover and refrigerate sauce overnight to allow flavors to marry. (Can be prepared up to three days ahead when kept refrigerated.)
When ready to prepare ham, reserve half of sauce for serving alongside the ham, and use the other half for basting.
Preheat oven to 400 degrees. Remove protective plastic from ham, and place in a shallow pan. Cover tightly with foil, turn oven down to 325 degrees, and place in oven. Heat whole ham for 2 to 2 ½ hours. For a half ham, heat for 1 to 1 ½ hours.
Baste ham with mustard sauce every 15 minutes for the last 30 minutes of cooking. Remove from oven, and let stand for 30 minutes before slicing.
Schwab's hams are available on line at Schwabmeat.com reserve yours now.
Scalloped Potatoes in Bacon-Cream Sauce
3 - 3 1/2 pounds medium-size baking potatoes
1 teaspoon salt
¼ cup Granny's Good Ol' Fashion Bacon Drippings
1 large onion, chopped
1/3 cup Shawnee Mills All Purpose Flour
2 cups Hiland Half & Half
2 cups Hiland Milk
1 teaspoon kosher salt
½ teaspoon black pepper
1 cup Bar-S Chopped Ham
2 cups grated white cheddar cheese
1 cup grated Gruyere cheese
Bring a large pot of water to a boil. Add potatoes and 1 teaspoon salt. Boil 20 minutes. Drain, and cool slightly.
Add Granny's Bacon Drippings to a sauté pan on medium heat. Once melted, add onion. Turn heat to medium-low, and cook for 10-15 minutes until onions are caramelized. Sprinkle onion with flour, stir and cook for about 3 minutes on medium heat until flour turns light brown. Slowly add half and half and milk, stirring to incorporate. Let mixture cook for about 5 minutes until bubbling. Stir in salt and pepper. Turn heat to low to keep warm.
Peel potatoes, then cut with a sharp knife or mandolin into thin ¼-inch slices.
Butter or spray with nonstick cooking spray a 9-by-13-inch baking dish. Layer 1/3 of the potatoes, 1/3 of the ham, 1 cup of the cheddar cheese and 1/3 of the sauce. Repeat with remaining potatoes, ham, cheese and Sauce ending with Gruyere cheese. Cover and bake in a preheated 400-degree oven for 40 minutes. Uncover and bake an additional 20 minutes.
Hallelujah Biscuits
Makes 12 large biscuits
4 slices Bar-S Thick Cut Bacon
2 (6-ounce) packages Shawnee Mills Buttermilk Biscuit Mix
1 cup Hiland Buttermilk
6 tablespoons Hiland Unsalted Butter, melted
1 cup shredded cheddar cheese
Fry bacon until crisp. Let cool slightly, crumble and set aside.
In a large bowl, combine biscuit mix, buttermilk and melted butter just until combined. Fold in crumbled bacon and cheese.
Place dough on a floured board. Pat dough into circle about 3/4-inch thickness, being sure not to overwork the dough. Cut biscuits using 2-inch biscuit cutter. Place biscuits on a greased baking sheet or parchment paper.
Bake in a preheated 425-degree oven for 10 minutes.
The Made in Oklahoma Coalition (MIO) is a state-run group that represents more than 40 Oklahoma food and agricultural manufacturers, who employ over 20,000 Oklahomans statewide. MIO's mission is to promote brand awareness and consumer loyalty for Oklahoma food and agricultural products. This is accomplished through collective marketing for the purpose of increasing sales, maintaining business retention and expanding Oklahoma's food processing sector. MIO, Good for Oklahoma. Good for you. For more information, visit http://www.miocoalition.com.