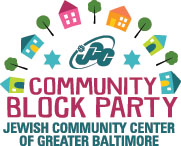 "Convening community and providing an opportunity for people to connect is what the JCC of Greater Baltimore does best. This was the impetus for creating our first-ever Community Block Party."
Owings Mills, MD (PRWEB) April 10, 2014
Join us for a fun family weekend activity at the Rosenbloom Owings Mills Jewish Community Center (JCC) on Sunday June 8 from 11:00 a.m. to 3:00 p.m. The ball fields will be transformed into a bustling street fair when the Center launches its first-ever Community Block Party. The fields will be alive with dozens of family-friendly activities, musical performances, a large-scale community service project, a food and craft marketplace and, best of all, multiple opportunities to learn about the local organizations serving our community.
According to Barak Hermann, the JCC's president, "Convening community and providing an opportunity for people to connect is what the JCC of Greater Baltimore does best. This was the impetus for creating our first-ever Community Block Party."
Over 60 local organizations are already on board to participate in this fun family weekend activity and many more are expected to sign up. Activities include: large inflatables, balloon art, face painting, carnival games, nature exhibits and more. Music and entertainment will be provided throughout the day, including at least five live performances. Jewish Volunteer Connection is providing hands-on service projects ideal for replicating at children's birthday parties.
The event is chaired by Jen Osterweil, Andy Attman and Jen Stein, with assistance from the JCC's Senior Program Director, Paul Lurie. Gold level sponsors to date include Stevenson University and Lifebridge Health. Silver sponsor is Lothorian Pools.
The JCC is a constituent agency of The Associated: Jewish Community Federation of Baltimore whose support and funding have helped to make this event possible.