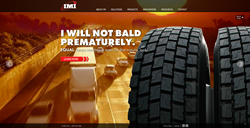 Chambersburg, PA (PRWEB) April 02, 2014
IMI is celebrating 40 successful years in business with the launch of its new branding and website at imiproducts.com. Since 1973, IMI has supported the trucking industry with products that solve common challenges for tire and wheel maintenance and safety. IMI's refreshed brand is centered on the company's mission of Delivering Extra Miles in Extraordinary Ways.
"We're constantly out in the field, talking with people in the industry and identifying their most common challenges - such as tire wear or wheel safety," explains John Tak, Director of Marketing and Product Development for IMI. "Our development team begins a process of brainstorming, testing and refining possible solutions using the highest quality materials, the most current technology and proven industry best practices. IMI's mission is to deliver extra miles in extraordinary ways, so we're always looking for newer, better and more creative ways to address the challenges of keeping a commercial fleet on the road. We wanted our website to reflect that."
The innovation that has defined IMI's history continues to drive the company forward. "The trucking industry has traditionally been slow to change," says IMI President and CEO, Bob Fogal Jr. "We want to lead that… to be a solutions provider. We learn of ideas from the field, from our customers - because that's where it begins."
Visitors to IMI's new website can learn about IMI's products, as well as get a firsthand look at soon-to-be-released products currently in development. A resources library features detailed literature, videos and charts containing a wealth of information. Visitors can also explore plenty of ideas on how to solve some of the trucking industry's most critical challenges - including rising fuel costs, premature tire wear and driver retention.
ABOUT IMI
Based in Chambersburg PA, IMI was founded in 1973. In the four decades since, IMI has led the way in developing innovative solutions-based products for the commercial trucking industry. With over 300 years of combined industry experience, IMI's success has come from understanding the challenges facing commercial trucking fleets and creating exceptional products that deliver cost savings, reduce operating costs and improve safety on the road.