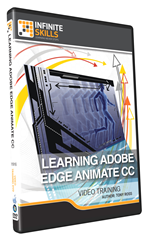 Learn the fundamental tools and techniques in Adobe Edge Animate CC at your own pace.
(PRWEB) April 02, 2014
Software training firm Infinite Skills Inc. this week released its "Learning Adobe Edge Animate CC," an introductory course teaching essential skills and tools for incorporating multimedia content in web design using Adobe's new multimedia platform. Adobe Edge Animate is designed as a replacement for the discontinued Adobe Flash program, taking advantage of new multimedia capabilities built into CSS3 and HTML 5.
Developed in 2011 by Adobe, Edge Animate is a multimedia authoring tool designed to succeed Flash as a platform for browser-delivered multimedia and animation content. The program can be used to incorporate animations, animate and customize web fonts, and create animations for navigational features like buttons and menus.
Infinite Skills' Learning Adobe Edge Animate teaches the fundamental tools and techniques for beginners to create multimedia content using Edge Animate, and incorporate it in web development.
Learning Adobe Edge Animate CC Video Training - Streaming
Course author Tony Ross is the owner and operator of tonyteach.com and a freelance motion artist, animator, and trainer. He has more than 20 years' experience in teaching and training computer graphics, video, web design, and animation. His teaching style is based on breaking complex problems into simple steps, providing lessons that are at once challenging and manageable for new users.
Ross starts off with an overview of Edge Animate, explaining how users of other Adobe programs, Flash, After Effects, and Photoshop, can best approach the new program.
From there, the course covers Edge Animate's basic interface features as Ross demonstrates how to arrange the workspace, adjust properties, and work with the basic tools and views.
Ross then dives in to Edge Animate functionality, looking first at importing images and working in the code panel, and moving on to cover working with web fonts and creating custom web fonts and animated type.
The course then moves on to working with animation, where Ross demonstrates basic animation skills like working with keyframes, adding animation, creating loops and motion paths, and working with CSS filters.
Other topics covered include creating navigational features like buttons and menus, working with audio, using templates, and finally, publishing and exporting projects.
"Edge Animate is a simple to use program that allows you to create motion and interactive based content using HTML, JavaScript, and CSS, all without having to write code," Ross says.
"In this course, we'll cover the fundamentals of Edge Animate so you can begin creating your own multimedia content as quickly and efficiently as possible."
Free demo videos and a full list of course contents can be found on the Learning Adobe Edge Animate CC training page of the Infinite Skills website:
http://www.infiniteskills.com/training/learning-adobe-edge-animate-cc.html
Infinite Skills offers its Learning Adobe Edge Animate CC Training Video either as a DVD or a direct download from the company website at a retail price of $49.95. Though the compatibility of programs varies, all Infinite Skills titles and formats are compatible with both Mac and Windows operating systems, and shipping is available around the globe. Additionally, Infinite Skills tutorials are supported by project files which correspond to examples in the videos.
About Infinite Skills Inc.
A leader in the field of software training, Infinite Skills designs its courses on a task-oriented model, teaching complex skills by providing hands-on examples and guiding users as they carry out essential functions. Infinite Skills offers a wide range of software titles available as DVDs, digital downloads, and in iPad editions. Infinite Skills now offers a subscription service, providing access to all its training content for a monthly fee, keeping with company's aim of delivering professional training to customers anywhere they want to learn.