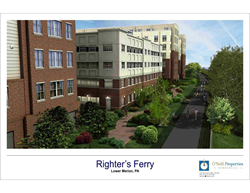 Denver, Pa. (PRWEB) April 08, 2014
High Concrete Group LLC is producing precast concrete components for a 121,800-square-foot parking structure that will accompany a new multi-family residential complex. The 340-space parking garage will serve the 593 residential units planned at 600 Righters Ferry Road in Bala Cynwyd, Pa., scheduled for completion in fall of 2014. In addition to the parking structure, the residential complex will feature two elevated buildings to house the residential units, a recreation trail and a 9,000-square-foot public gathering space.
High Concrete Group was awarded the contract by O'Neill Properties, a real estate development company, located in King of Prussia, PA. A total of 345 precast concrete pieces will be erected starting in May 2014. The garage was designed by Timothy Haahs & Associates Inc., Engineer/Architect located in Blue Bell, PA. The precast concrete will be produced at High Concrete Group's Denver, PA plant.
About High Concrete Group:
Headquartered in Denver, PA, and employing more than 400 co-workers, High Concrete Group has provided precast components for more than 5,000 projects since 1957, and is found on Engineering News Record's list of the Top 600 Specialty Contractors. High Concrete Group has production facilities in Denver, PA and Springboro, OH. The company also operates High Concrete Accessories, a Denver, PA-based national precasting embedment supplier.