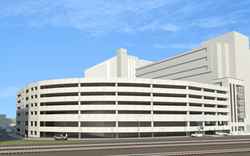 Denver, Pa. (PRWEB) April 01, 2014
High Concrete Group LLC is producing precast concrete components for a parking structure located at 3600 Civic Center Boulevard in Philadelphia. The new structure, adjacent to the University of Pennsylvania Health System Perleman Center for Advanced Medicine, will accommodate 1,500 cars.
High Concrete Group was awarded the contract by LF Driscoll Company, a construction management contractor, located in Bala Cynwyd, PA. The 300,000-square-foot project was designed by Timothy Haahs and Associates, Blue Bell, PA. The precast concrete will be produced at High Concrete Group's Denver, PA plant.
About High Concrete Group:
Headquartered in Denver, PA, and employing more than 400 co-workers, High Concrete Group has provided precast components for more than 5,000 projects since 1957, and is found on Engineering News Record's list of the Top 600 Specialty Contractors. High Concrete Group has production facilities in Denver, PA and Springboro, OH. The company also operates High Concrete Accessories, a Denver, PA-based national precasting embedment supplier.