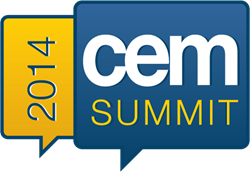 Marketers need to sharpen their focus and leverage the specific data that fosters engagement. Our speakers will share strategies and case studies to support this focus.
Atlanta, GA (PRWEB) April 02, 2014
PossibleNOW, the leading provider of customer experience and enterprise preference management solutions, today announced plans to host the third annual Customer Engagement Marketing (CEM) Summit on September 17-18 in Atlanta. The 2014 CEM Summit will focus on winning big by thinking small — the idea that small data is a powerful way to unlock and understand how to engage your customers more effectively.
"Now more than ever, marketers need to sharpen their focus and leverage the specific data that fosters engagement," said Scott Frey, CEO of PossibleNOW. "Reaching the right person at the right time with the right message — connecting the small data dots — is the key to success and it will be our focus at CEM Summit 2014."
CEM Summit organizers are accepting speaker proposals now through April 30 via http://www.cemsummit2014.com. For updates on speakers and sponsorship opportunities, contact cemsummit(at)possiblenow(dot)com to be added to the email alert network or follow CEM Summit on Twitter via @CEMSummit.
"CEM Summit delivers great speakers," said Jason Bennick, Chief Operating Officer at AutoLoop. "They talk about how to engage a customer effectively, methods to manage that engagement effectively and how to navigate the regulations that govern the whole process. It's an educational and insightful experience."
With a focus on the critical roles that preferences, personalization and privacy play in executing high impact global marketing campaigns, the CEM Summit will include a variety of learning and interaction opportunities including breakout sessions, expert panels, roundtable discussions and networking events.
To learn more and watch videos from previous CEM Summits, go to http://www.cemsummit2014.com.
About PossibleNOW
PossibleNOW, headquartered near Atlanta, Georgia, enables businesses to build lasting, profitable relationships with customers, partners and employees through preference management technology. MyPreferences®, our enterprise preference management platform, empowers companies to listen to and learn from their customers through the active collection and management of preferences such as product interest, channel preference and frequency of communication. MyPreferences easily integrates into existing applications such as CRMs and marketing databases. The MyPreferences platform's flexibility, security and compliance protections make it ideal for serving as the central repository for customer data inside the enterprise and for minimizing regulatory compliance risk. For more information, call (800) 585-4888 or (770) 255-1020, e-mail info(at)possiblenow(dot)com or visit http://www.possiblenow.com.
###