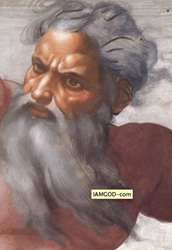 While we mere mortals have yet to learn how to control the forces of nature in a God-like fashion, this auction could at least give the owner the online persona
Philaelphia, PA (PRWEB) April 03, 2014
A seller on eBay is offering a once in a lifetime opportunity to play the role of God with the self titled domain name IAMGOD.com. While we mere mortals have yet to learn how to control the forces of nature in a God-like fashion, this auction could at least give the owner the online persona - and perhaps even the creation of an avatar to go along with your new website.
This incredible chance may not give the owner omnipotent powers but it could offer a variety of other kinds. The world-wide reach of such a title is obvious from a marketing perspective, and any salesperson will be in the clouds (pun intended) when it comes to the competition. SEO is such a huge commodity, but in the end what's most important is the domain name when it comes to URL addresses in a world full of domain name squatters.
The URL could be used to set up a website for any number of possibilities from a spiritual or religious platform right through to a gaming community. If you have tons of money to burn, you could play an epic prank on an unsuspecting group of friends. The uses for this domain name really are endless and we would love to hear your suggestions on Twitter #iamgod.
IAMGOD.com could be a valuable domain to invest in or alternatively be used to set up a website for a business or organization who wants to engage with the global community. The auction is set to a starting bid of $20,000 USD with options to place a bid or "Buy it Now".
This premium domain name has already had queries from a variety of interested parties who wish to remain anonymous. The respected seller from Philadelphia, Pennsylvania has a 100% rating on eBay to date and expects to continue with this new auction. Place your bid now for the chance to say 'I am God' and mean it!
The auction is on a limited time and the clock is ticking. Check it out the auction here.