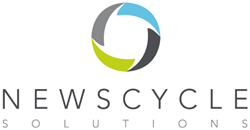 St. Paul, MN (PRWEB) April 03, 2014
NEWSCYCLE Solutions (NEWSCYCLE) has signed an agreement with Hordaland Bladdrift AS, to install NEWSCYCLE Digital at the group's newspaper properties in Western Norway. The new system will publish the digital versions of the Avisa Hordaland and Vaksdalposten newspapers which cover the Norwegian municipalities of Voss, Vaksdal, Ulvik, and Granvin. NEWSCYCLE Digital will be used in collaboration with existing NEWSCYCLE Content software already in use at Avisa Hordaland and Vaksdalposten.
Hordaland Bladdrift AS selected NEWSCYCLE Digital to manage high volumes of content and deliver it across multiple digital channels. The news media group expects the Avisa Hordaland and Vaksdalposten digital sites will immediately benefit from the ability to display any type of content to various digital devices, and will ensure content consistency from their digital side through to their printed products.
Hordaland Bladdrift AS made the strategic decision to use NEWSCYCLE's digital and content systems together to help create and deliver content to all print or digital channels from a centralized database in a collaborative and flexible environment. The robust systems provide a single, central repository for all media assets to align and extend available resources, giving Avisa Hordaland and Vaksdalposten more streamlined and efficient workflows and operational processes.
"I am pleased to see such an advanced local media company as Hordaland in Norway chose our digital publishing platform," said Anders Christiansen, general manager, NEWSCYCLE EMEA. "They have a very demanding market and using NEWSCYCLE's digital and content together is a great way to meet those demands. They will reach their audience through many devices from print to Web, mobile, smartphones and tablets."
About NEWSCYCLE Solutions
NEWSCYCLE Solutions, which was formed by the combination of DTI, SAXOTECH and Atex, Inc., delivers a broad range of technology solutions for the global news media industry, including content management, digital advertising, circulation, and audience relationship management. NEWSCYCLE Solutions is a trusted technology partner serving more than 500 media companies in more than 30 countries on 5 continents. The company is headquartered in St. Paul, MN and has US offices in Florida, Massachusetts and Utah; with international offices in Canada, Denmark, Germany, Norway, Sweden, and the United Kingdom. For more information, go to: http://www.newscyclesolutions.com.