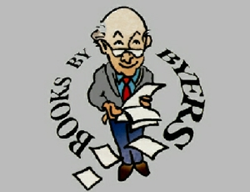 (PRWEB) April 03, 2014
Stephen and Elspeth Byers have written a memoir titled "Our Life In The Arts" about their venture into theater, storytelling, and creative writing that has provided them with fifty years of purposeful activity and satisfaction.
The story begins in 1972 when Stephen's employer assigned him to a major construction project in Kansas City, Missouri. Elspeth writes, "That first summer … I offered to assist with costumes at the Bell Road Barn Playhouse in Parkville, MO." She found a comfortable niche learning costuming as a volunteer stitcher at the Missouri Repertory Theater. In 1977, her costumes for "She Stoops To Conquer" by Oliver Goldsmith achieved such renown Channel 5 in Kansas City produced a show featuring Elspeth accompanied by the actors in costume.
Elspeth's proficiency as a costumer grew as she went on to do costumes for the Kansas City Ballet and for a folk dancing group planning to tour Israel, all the while producing costumes for the Bell Road Barn. Commercially, her skills led to the creation of fabric canopies for the Indian Creek Racquet Club and ceiling décor in the Hyatt Hotel in Kansas City, and ultimately to a seamstress job in the MRT Costume shop. After leaving KC, she continued her sewing career decorating their various homes as they moved from place to place in Northwest Arkansas. Even now, with eyesight failing, she continues with sewing projects.
Meanwhile, Stephen stepped into the arts building stage sets at the Bell Road Barn
Playhouse, advanced to acting, spreading his newly discovered talent across the city with ever-increasing success, culminating in 1981 in a one-man show titled "Clarence Darrow;" a two-hour tour-de-force that garnered this comment in a private letter: "… one of the most enjoyable Resident Theater presentations in years."
Stephen retired from the construction business in 1988 and the couple moved to Bella
Vista, Arkansas where he turned his theater experience to storytelling in association with the Shiloh Museum of Ozark History. For ten years, he served as President of the Tellers of Tales Guild, entertaining audiences in the four-state area. He produced, directed and acted in reenactments of the old-time traveling Chautauquas that visited Springdale in 1898, 1899 and 1900, including writing scripts about such famed men as William Jennings Bryan and William "Coin" Harvey. In 1999, he won the prestigious Arkansas Museums "Friend of the Museums" award "in recognition of outstanding contributions." Except for Elspeth's professional forays into fabric canopies and her work at the Missouri Rep, Stephen and Elspeth asked no remuneration for the thousands of hours they devoted to the communities they served, donating stipends they happened to receive to the Endowment Fund of the museum.
At the age of 74, Stephen veered into creative writing, self-publishing two novels in 1999, and five more books since. He offered four-hour free seminars at public libraries, sometimes drawing as many as 75 attendees; his only remuneration being books sales at the back of the room. Colon cancer in 2002 brought his lectures and selling to a halt, but he continued with writing after recovery. He revised and reissued his first four books, this time using a print-on-demand service. "Creativity was the cure," he said, "marketing the frustration."
Now, after a heart attack in 2011, with seven books in print and unable to travel, he continues the struggle to gain an audience for his work, all the while he and Elspeth enjoy their love and their life, grateful they are still together after sixty-six years of marriage.
"Our Life in the Arts" is now available in paperback for $6.95 on Amazon and in Kindle
eBook format for $2.99. The book is enrolled in Amazon's MatchBook program, allowing the reader who buys the paperback to download the eBook edition free of charge. The book, along with Byers' previous novels, is also available on http://booksbybyers.us.
About Stephen P. Byers/Books by Byers: Stephen P. Byers published his first novel fifteen years ago at the age of 74. A second book soon followed. The next year he started writing weekly 500-word articles for the Gravette News-Herald in Arkansas. In search of topics, he shifted to articles on creative writing that were recognized by Banyon Publishing, Tampa, Florida, publishing them on the Internet under the title "The Book Doctor Series." This lead to Stephen's acclaimed four-hour seminars that he offered at public libraries. Byers' books, together with storyline and reviews are available on his website, http://www.booksbybyers.us. They are also available on Amazon. As if he were an idle retiree, he keeps busy writing a weekly blog titled "Short-Shorts;" slices of life in 500 words or less he publishes every Tuesday at 2 PM. They can be found at http://spbyers0.blogspot.com