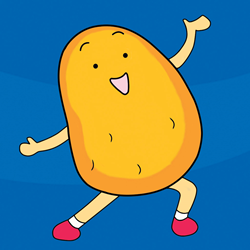 Oxford, UK (PRWEB UK) 2 April 2014
Children have an exciting new way to develop their English and practice English at home with a new app from Oxford University Press.
The Potato Pals series of readers for young learners of English is now available as an app with 7 different Potato Pals stories which are brought to life with charming animations and audio. One free story is included in the app with the option to buy 6 more.
The app has a special face recognition feature, letting children record their own version of the Potato Pals stories with their own face appearing in the story illustrations. Children will have lots of fun telling the stories and seeing themselves star in their own stories. They can save their video and share it on YouTube. This enhances the learning experience, and helps students to learn, and use English.
The app teaches over 150 useful words and phrases to help young children talk about their day, and they can sing along to the Potato Pals songs and record karaoke versions of themselves singing.
Patrick Jackson, author of Potato Pals says:
"This app delights young children. They love learning English with the cute Potato Pal characters through colourful animated stories and catchy songs. What makes the app really special is the face recognition feature. This allows children to star in the stories - seeing their own face appearing in the illustrations. It's fun and gives children a real sense of pride – they get the chance to show their family and friends what they have learnt."
Paul Riley, ELT Channels and Partnerships Director at Oxford University Press adds:
"This exciting new app will help children develop their confidence in English as it gives them lots of opportunities for listening, repeating new words and phrases, recording themselves telling stories and singing songs, and seeing vocabulary in context. We've made the app really simple and appealing, with bright illustrations, clear buttons and easy navigation. We think parents will love it too – they'll enjoy seeing their children develop their English with this app."
Notes to editor
About Oxford University Press
Oxford University Press is a department of the University of Oxford. It furthers the University's objective of excellence in research, scholarship, and education by publishing worldwide. OUP is the world's largest university press, with a wide global reach. It currently publishes more than 6,000 new publications a year, has a presence in around fifty countries, and employs more than 5,000 people worldwide. It has become familiar to millions through a diverse publishing programme that includes scholarly works in all academic disciplines, bibles, music, school and college textbooks, children's books, materials for teaching English as a foreign language, business books, dictionaries and reference books, and academic journals.
To find out more about Oxford University Press please visit http://www.oup.com. To find out about OUP's English Language Teaching publications please visit http://www.oup.com/elt.
About Potato Pals
Potato Pals teaches language and vocabulary using 16-page readers that feature appealing potato characters. Fun stories teach pre-primary to primary students simple sentences, basic vocabulary, and useful patterns through a unique system of picture cues. An easy method of repetition, memorization, and simple reading assures student success.