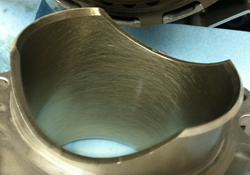 During engine rebuilds, Flex-Hone® tools are used to break the glaze and impart a finish with oil-retaining valleys for optimum lubrication.
Los Angeles, CA (PRWEB) April 02, 2014
Brush Research Manufacturing (BRM), global leader in surface finishing solutions, is announcing user feedback that describes how Flex-Hone® tools deglaze the walls of Nikasil-coated engine cylinders. By imparting a plateau finish, ball hones break the "glaze" or overly smooth finish that prevents engine oil from adhering to Nikasil linings.
Nikasil is a nickel-plated, silica carbide coating that reduces friction and wear, especially in aluminum engines. Nikasil liners are lighter and harder than spray-on cast iron or carbon coatings, but are also thinner. Therefore, some engine mechanics worry that cylinder honing may remove too much Nikasil. Unlike rigid hones, however, BRM Flex-Hone® tools are not designed for heavy-duty material removal. Note, however, that Flex-Hone® tools are not recommended for ported Nikasil cylinders
Flexible Honing and Cylinder Deglazing
Self-centering, self-aligning to the bore, and self-compensating for wear, flexible hones provide superior surface finishing. Made with flexible nylon filaments and abrasive globules, BRM ball hones remove cut, torn, and jagged metal while leaving the base material undisturbed. Flexible hones also brake the glaze on cylinder walls that's caused by the up-and-down movement of pistons.
In diesel or gasoline engines, this reciprocating movement can create an overly smooth finish that causes the piston rings to skate along the surface and fail to seat and seal properly. Cylinder wall glazing can also prevent engine oil from adhering to surfaces. During engine rebuilds then, Flex-Hone® tools are used to break the glaze and impart a finish with oil-retaining valleys for optimum lubrication.
Ball Hones and Abrasive Types
At on-line forums, engine mechanics have documented their use of BRM glaze breaker hones. For example, a motorcycle mechanic described using flexible honing tools to deglaze the Nikasil-plated cylinders in a Kawasaki ZRX 1200 engine. Other bikers have also documented their use of BRM ball hones in engine rebuilds for BMW motorcycles. There is also a Flex-Hone® video with MotorzTV.
At Thumper Talk, an on-line forum for dirt bike enthusiasts, users have discussed Flex-Hone® tools for Nikasil liner preparation. They've also debated which type of abrasive to use. For Nikasil cylinders, BRM recommends cylinder hones with aluminum oxide (AO) abrasive. Nikasil-coated bores are easier to over-hone than cast iron engine cylinders, for which silicon carbide (SC) is the right choice.
The Flex-Hone® Resource Guide provides complete information about how to select abrasive types and grit sizes for different base materials.
About Brush Research Manufacturing
Brush Research Manufacturing (BRM), makers of flexible honing tools and diesel and automotive brushes, is located in Los Angeles, California. For over 55 years, BRM has been solving difficult surface finishing problems with brushing technology. BRM's Flex-Hone® tool is the industry standard against which all other surface finishing solutions are compared. Visit the BRM website to learn more.
Media Contact:
Heather Jones
Director of Marketing
Brush Research Manufacturing Co. Inc.
4642 Floral Drive
Los Angeles, CA 90022
HJones(at)brushresearch(dot)com
For Immediate Release:
http://www.brushresearch.com/
Ph: (323) 261-2193