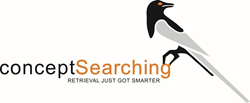 70% of all security breaches are due to actions from an organization's own staff. Webinar attendees will discover how not to become a statistic.
McLean, VA, US and Stevenage, UK (PRWEB) April 02, 2014
Concept Searching, the global leader in semantic metadata generation, auto-classification, taxonomy management software, and developer of the Smart Content Framework™, and CipherPoint, the first provider of transparent data encryption solutions for SharePoint, are sponsoring the joint webinar 'Data Breaches and Security Rights in SharePoint', on Tuesday, April 29th at 11:30 – 12:30 EDT. Registration is now open for this practical webinar focusing on SharePoint and security challenges.
70% of all security breaches are due to actions from an organization's own staff. Webinar attendees will discover how not to become a statistic. Security is becoming an increasingly significant challenge, in terms of how unstructured and semi-structured content is protected, and how the security rights of individuals within an organization are addressed.
This webinar will focus on all aspects of security in a SharePoint environment, using Concept Searching's native SharePoint tools and conceptClassifier for SharePoint platform, and CipherPoint's Eclipse suite of security tools.
Join Coby Royer, Director of Product Management at CipherPoint, a seasoned veteran in cyber security, with broad and deep experience in product development and enterprise security, and Don Miller, Vice President of Commercial Accounts at Concept Searching, an experienced and frequent speaker on records management and information architecture solutions, as they cover all aspects of security in a SharePoint environment.
These expert speakers will discuss how their technologies work with privacy and confidential content, to identify unknown security or confidential exposures, in real time, from diverse repositories.
Webinar attendees will:

Learn about rapidly changing challenges in data privacy, protecting confidential information, and the increase in cyber security threats
Understand how these issues impact organizations, escalate risk, and result in costly remediation fines and breaches
Hear why security products may not be protecting organizations as they thought
Discover how automatic semantic metadata generation, auto-classification and native Term Store integration can be used in security processes
Find out how organizations are successfully using conceptClassifier for SharePoint to address security issues
Learn how to automatically identify unknown security or data privacy information and secure it from unauthorized access and portability in SharePoint
Leverage SharePoint technology investment through native integration with Term Store and the taxonomy component in conceptClassifier for SharePoint
Hear real-life case studies of clients who have solved security issues
All those who register for the webinar will be sent a link to the recorded webinar and presentation, even if they cannot attend.
About Concept Searching
Founded in 2002, Concept Searching is now the industry leader specializing in conceptual metadata generation, auto-classification, and taxonomy management. Platform agnostic, Concept Searching is also a Microsoft managed partner with a Gold competency in Application Development, and offers a complete suite of SharePoint solutions. The award winning technologies integrated with Concept Searching's Smart Content Framework™ encompass the entire portfolio of unstructured information assets in on-premise, cloud, or hybrid environments. Clients have deployed the intelligent metadata enabled solutions to improve search, records management, protection of privacy data, migration, text analytics, eDiscovery, and Enterprise/Web 2.0.
Concept Searching is headquartered in the US with offices in the UK, Canada and South Africa. For more information about Concept Searching's solutions and technologies visit http://www.conceptsearching.com and our Blog.
About CipherPoint
CipherPoint Software secures sensitive and regulated information in collaboration platforms. CipherPoint is the first provider of transparent content encryption software for Microsoft SharePoint, and was founded by IT security industry veterans with deep experience in building security technology companies.
CipherPoint's products enable companies to comply with multiple regulations, enforce need-to-know, and protect sensitive and confidential information. CipherPoint's customers in the US, Europe, and Asia include health care, financial services, manufacturing, government, and other firms. CipherPoint is growing rapidly and is headquartered in Denver, Colorado.
All product and company names herein may be trademarks of their respective owners.