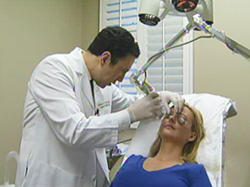 Los Angeles, CA (PRWEB) April 02, 2014
USNews.com, in a March 31, 2014 report titled "Experts advise caution as Dominican Republic grows into major cosmetic surgery destination," stated that on March 7 the United States Centers for Disease Control reported that 19 women from five different states developed serious bacterial wound infections during the past 12 months after having plastic surgery in the Dominican Republic. No deaths were reported but treatment for these types of infections may often require long courses of antibiotics and additional surgery to drain fluid or remove infected tissue. (See: http://goo.gl/E8YXEm)
"I can certainly appreciate that patients take financial considerations into account when researching their plastic surgery options," says Dr. Simon Ourian, Medical Director of Epione Medical Corporation. "Having said that, I think it's short-sighted, and potentially dangerous, to put cost at the top of one's list when determining where to undergo a surgical procedure. It's certainly possible that a surgical complication can occur at the finest hospital in the world, but it's more likely to occur in a country where government regulation of physicians and medical facilities may be lax."
According to the USNews.com report, over the last decade or so the costs for cosmetic surgery procedures have come down, making them more affordable than ever before. However, there are still many Americans who wish to have plastic surgery and either want or need to save money on their procedures. This consumer demand has led physicians and clinics in the Dominican Republic, Thailand, Costa Rica, and Mexico to advertise for medical tourism.
"The basis of the news article was the death of a woman who died from complications related to a tummy tuck and liposuction procedure she underwent at a clinic in Santo Domingo," says Dr. Ourian. "After investigating, the Dominican Health Ministry shut down this clinic due to the presence of bacteria and other bio-sanitary regulation violations. Obviously, and unfortunately, this government action was too late to prevent the death of that poor woman. I can't repeat this often enough: Consumers need to know all the potential risks of surgery before proceeding."
Dr. Ourian has been a pioneer in laser technology and non-invasive aesthetic procedures including Restylane, Juvéderm, Radiesse and Sculptra. These treatments are used for the correction or reversal of a variety of conditions such as acne, acne scars, skin discoloration, wrinkles, stretch marks, varicose veins, cellulite, and others. More information about plastic surgery can be found on Epione's website.