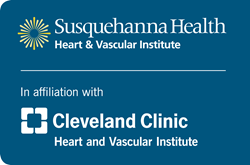 If you think the current guidelines are difficult to accept, imagine the controversy that would erupt as a result of similar guidelines that would apply to adolescents.
Williamsport, PA (PRWEB) April 01, 2014
Susquehanna Health (SH) Cardiologist Dr. Liran Blum said new guidelines established by the American College of Cardiology (ACC) and American Heart Association (AHA) regarding the recommended use of cholesterol-reducing drugs called statins are appropriate and should be viewed primarily as guidelines when determining a patient's course of treatment for the prevention of cardiovascular events such as heart attacks or strokes. "I think the guidelines and the recent [Duke University] study have created an uproar because the results indicate that more patients require statins than ever before," Dr. Blum explained.
A Duke University study published online in a March issue of The New England Journal of Medicine has drawn national attention due to projections that 13 million more Americans will be eligible for cholesterol-reducing drugs (such as Lipitor and Crestor) as a result of new guidelines released in November. "It's important to keep in mind that the guidelines are based on evidence-based medicine," said Dr. Blum. "Statins are known to reduce mortality in specific patient populations," he explained. Dr. Blum believes there is clear evidence for prevention in patients whose profile places them at high risk for an initial, and perhaps a recurrent, cardiovascular event.
Under the new guidelines, statins are recommended for patients with: heart disease, an LDL (bad cholesterol) of 190 mg/dL or greater, Type 2 diabetes (age 40 to 75), or a 10-year risk of heart disease of 7.5 percent or greater (age 40 to 75). The Duke study projects that following the new guidelines could reduce the occurrence of nearly a half a million heart attacks and strokes over the next decade.
Dr. Blum believes the benefit of statin therapy far outweighs the risks. "The risk of statins causing liver damage is approximately 0.5 to 3 percent, while the risk for muscle pain (myalgia) is about 2 to 10 percent," he explained. Another side effect is increased blood sugar. Dr. Blum said he believes there is much more focus, and often exaggeration, in today's media on the risks or side effects of taking statins rather than on their benefits.
When recommending statins to a patient, Dr. Blum's approach is always to weigh the patient's health benefit over the health risks. "If one of my patients, whom I believe would benefit from a statin, is concerned about its potential side effects, I would recommend a low dose brief trial of statin therapy with close monitoring of the patient's progress and/or tolerance of the medication," he said.
A patient's risk for heart disease is calculated using the Pooled Cohort Equations and lifetime risk prediction tools. "This is not a computer generated model. The risk calculator takes cardiovascular risk factors and translates them into numbers," Dr. Blum explained. "Treatment involves a discussion that takes place between the physician and the patient after which a decision is made as to whether or not to initiate statin therapy."
Dr. Blum emphasized the importance of a patient considering the benefit versus the risk of any medication. "Statin therapy should be individualized. Just because a patient's friend was intolerant to statins does not mean that the patient him/herself will be intolerant as well. Patients must understand the benefit versus the risks of statins, or any medication for that matter, before deciding whether or not they should take statins," he said.
According to Dr. Blum, the estimated increase in eligibility of Americans for statin therapy in primary prevention is indicative of our country's obesity epidemic. "As per the guidelines, lifestyle modification is imperative for the prevention of heart disease," he said. "If patients cannot minimize cardiovascular risk through diet and exercise and they have a high risk profile as per the guidelines, statin therapy may be warranted." Lifestyle modification includes implementing a heart-healthy diet, exercising regularly, maintaining a healthy weight and avoiding tobacco products.
Although the guidelines and study are primarily based on adults younger than age 75, Dr. Blum foresees the nation's obesity epidemic focusing future research on the possible benefit of statins in adolescence. "If you think the current guidelines are difficult to accept, imagine the controversy that would erupt as a result of similar guidelines that would apply to adolescents," he concluded.
For more information about heart disease prevention and treatment, visit SusquehannaHealth.org/Heart or call 570-321-2800.
About Susquehanna Health
Susquehanna Health is a four-hospital integrated health system including Divine Providence Hospital, Muncy Valley Hospital, Soldiers + Sailors Memorial Hospital and Williamsport Regional Medical Center located in North Central Pennsylvania. Serving patients from an 11-county region, Susquehanna Health is a healthcare leader and has been recognized at the national and state levels for quality of care. Susquehanna Health offers a wide array of services that include cancer care, heart and vascular care/heart surgery, neurosciences including neurosurgery, orthopedics, urology, OB/GYN, gastrointestinal services, behavioral health, physical rehabilitation, home care, long term care, assisted living and paramedic/ambulance services.