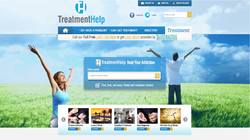 Los Angeles, CA (PRWEB) April 02, 2014
Private Treatment Centers LLC is proud to announce the launch of http://www.treatmenthelp.com, a website devoted to finding the best drug rehabilitation treatment options suitable for a patients needs. With its comprehensive database of researched information and nationwide listing of treatment options, TreatmentHelp contains everything needed to start addiction recovery.
The most prominent feature of TreatmentHelp is its easy-to-navigate options on the homepage. Its clear header and featured list of most popular options leads directly to the desired page. TreatmentHelp features the contact number and treatment center search on every page, helping users find the pages they need without any extra hassle.
Unlike leading drug rehabilitation websites, TreatmentHelp focuses deeply on every aspect of addiction and recovery. Over 250 detailed pages cover a wide variety of drug and behavior disorders, treatment types and specialties, and payment options, so that no issue is neglected. No matter the issue, TreatmentHelp provides a broad range of solutions accommodating any specific requests.
TreatmentHelp caters to everyone. The website contains not only information for struggling addicts, but for family and friends who care about the well-being of their loved one. Fill out a "Contact Form" to speak to an available representative. Visit the article pages to learn more about a loved one's addiction. View the "Drugs and Intervention" section of the blog to find out how to tactfully tell a loved one that he/she has a problem and needs immediate help. TreatmentHelp resources serve as a guide to help people take appropriate action.
TreatmentHelp understands that while deciding to receive treatment for addiction is a step in the right direction, it is also a huge transition for many. The staff at TreatmentHelp is sensitive to all cases and needs, and works hard to help make the journey to recovery a smooth and comfortable transition. When calling, be assured that someone will be waiting to assist.
If you or a loved one is experiencing a problem with addiction, don't hesitate to contact TreatmentHelp at 1(877)-782-6608.