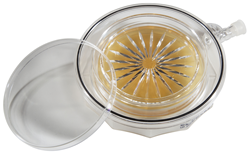 Boulder, CO (PRWEB) April 02, 2014
Particle Measuring Systems recently announced the introduction of the BioCapt® Single-Use Microbial Impactor (patent pending) for environmental monitoring of cleanrooms. This single-use product is revolutionary in design and operation and offers a sampling device with integrated media.
The BioCapt Single-Use is designed to eliminate false positive results and reduce the costs and handling complexities associated with traditional media plate samples and stainless steel samplers. The cost of false positive growth on traditional media plates not only includes investigation costs in the thousands of dollars, but can also lead to the costly disposal of suspect batch production or delayed product releases. Such investigations consume vital manpower resources and often result in lost production time. This innovative solution eliminates direct operator exposure to the media during installation and removal of the sampling device.
In addition to eliminating the risk of false positive growth, using the BioCapt Single-Use simplifies the process of sample collection. The single-use technology eliminates costs and labor required for disinfection of fixed stainless steel samplers and autoclaving of sampling heads, validation of the head sterilization process, and associated handling and material logistics.
Commenting on this innovative new product, Ron Adkins, Vice President Life Sciences Division said: "Years ago the pharmaceutical industry progressed by replacing the glass Petri plate with the single-use polystyrene Petri plate. Microbial air sampling now makes another major advancement with the BioCapt Single-Use, significantly reducing the risk of false-positive contamination from operator handling and exposure."
The standard agar media available are Tryptic Soy Agar (TSA) or Sabouraud Dextrose Agar (SDA) and can contain neutralizers, Penicillinase, or Betalactamase to meet a variety of customer requirements for the growth of organisms. The units are filled following an ISO 9001:2008 quality process using USP and EP formulation guidelines. Once filled, the units are triple-bagged, with VHP impermeable packing, and the units are then gamma-irradiated to assure sterility.
The BioCapt Single-Use is validated to assure high biological and physical collection efficiency and biological growth promotion once an organism is collected. The molded barb and available mounting hardware allow seamless integration into existing systems and simple replacement of existing stainless steel samplers. Ongoing life testing has demonstrated up to a 9-month shelf life when stored between 2-25 °C.