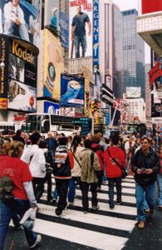 According to the Times article, since the start of 2014, three pedestrians have been killed in separate accidents within a two-block radius of the Upper West Side and 19 more pedestrians have been killed elsewhere in the city during the same time period
New York, N.Y (PRWEB) April 04, 2014
Recently New York City Mayor Bill de Blasio announced a campaign to combat traffic fatalities called Vision Zero by increasing enforcement, lowering speed limits and redesigning intersections. According to a Feb. 27 editorial in The New York Times, the NYPD is also investing in equipment such as laser speed guns and red light cameras to step up enforcement efforts.
Traffic accident statistics especially when taking into account New York City pedestrian fatalities have been staggering. According to the Times article, since the start of 2014, three pedestrians have been killed in separate accidents within a two-block radius of the Upper West Side and 19 more pedestrians have been killed elsewhere in the city during the same time period. A total of 176 pedestrians have been killed in traffic collisions since 2008, the report states.
The article also points out that a majority of pedestrian fatalities are happening on large, fast-moving arterial roadways such as Northern Boulevard, Cross Island Parkway, Queens Boulevard, Prospect Park West or West End Avenue – all roadways where cars often travel at 60 mph.
New York personal injury lawyer Kenneth A. Wilhelm says that much needs to be done to redesign the city's roadways and make them safer for cars, bicycles and pedestrians. "If city streets remain as smaller streets with narrower traffic lanes, lower speed limits and broader sidewalks it would definitely create a more pedestrian-friendly zone. Presently, many of the larger thoroughfares and arterial roadways are not being categorized as such and often are missing medians, barriers and overhead bridges where pedestrians can find safe passage across."
It is important to make these changes as soon as possible and prevent more pedestrians from being injured or killed, Wilhelm said. "Pedestrian accidents tend to result in major or fatal injuries for the victims because unlike motorists and their passengers, they are unprotected. It is absolutely essential for the city to promptly reevaluate those streets where pedestrian and vehicle traffic is heavy and make them safer for both drivers and pedestrians."
About the Law Offices of Kenneth A. Wilhelm
The Law Offices of Kenneth A. Wilhelm is a personal injury litigation firm with an unwavering dedication to its clients. With more than 42 years of experience, our firm strives to obtain the best compensation for those who have been injured or those who have lost a loved one due to an accident or by someone else's negligence. We handle cases dealing with personal injury, medical malpractice, wrongful death, train accidents, workers' compensation, dental malpractice, motor vehicle accidents, pedestrian accidents, rape, paralysis, comas, seizures, false arrest, lead poisoning, trips and slips and falls, falls on sidewalks or stairs, elevator accidents, construction accidents, Erb's palsy, cerebral palsy, brain damage, blindness, hearing loss, dog bite cases, fire and smoke inhalation accidents, bicycle accidents, falls from windows or scaffolds, food poisoning injuries, carbon monoxide accidents, and many other types of accidents and injuries.
Please contact our New York personal injury attorneys TOLL FREE 24 hours a day, 7 days a week at 1-800-WORK-4-YOU (1-800-967-5496). WE CAN EVEN COME TO YOU. There is no attorneys' fee unless we recover money for you. We can also help with personal injury cases in New Jersey, Connecticut, Pennsylvania, or Florida. If you have been seriously injured in any of the 50 U.S. states, please call us and we will try to help you with your case.
Other TOLL FREE phone numbers for us are:
1-800-RADIO-LAW, 1-888-WYPADEK, OR 1-800-LAS-LEYES
The Law Offices of Kenneth A. Wilhelm
445 Park Ave, 9th Floor
New York, NY 10022
(212) 545-7373
Please visit us at: http://www.WORK4YOULAW.com