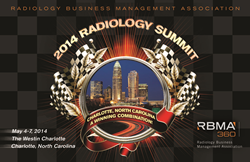 With the use of new technology, the Radiology Summit will deliver quality education beyond the conference as well as offer business intelligence resources to practices nationwide.
Fairfax, VA (PRWEB) April 03, 2014
The Radiology Business Management Association (RBMA) is proud to highlight recent enhancements to its annual spring meeting agenda. This year's Radiology Summit, taking place May 4-7 at the Westin in Charlotte, NC, will feature two key additions aimed at better serving RBMA members through technology.
On Monday, May 5, the RBMA will offer its first livestream of a conference session for the benefit of members who cannot attend the Summit in person. "Group Integration and Collaboration Models: A Case Study," sponsored by Merge Healthcare, will share the experiences of radiology group joint venture networks formed in different regions of the country. Speakers will include Robert Barr, MD, FACR; Theodore Kerner Jr., MD; William Pickart, MBA; Joseph Racanelli, MD; Edward Rittweger, MD, MACR; and Douglas Smith, FRBMA.
RBMA members will be able to stream the session live at 3:45 p.m. Eastern, and will also have access to a recording if they're not available to tune into the livestream. "We wanted a convenient and easily accessible way to bring conference content to members who are unable to attend in person," explained Daphne Gawronski, director of communications and development for the RBMA. "For members who have yet to attend one of our conferences, this will also demonstrate the quality of our educational offerings."
This year's Summit will also feature a DataMAXX round table/test drive session from 10:30 to 11:30 on Monday, May 5. This session will demonstrate DataMAXX's capabilities and train both current and future participants in optimal utilization of the data warehouse. DataMAXX currently has 133 users from radiology practices all over the country, and has been updated to include sample data files and default file mapping as well as a vendor portal.
"As business intelligence and analytics become increasingly critical to radiology practice profitability, we're excited about the role DataMAXX can play in providing participants with on-demand access to custom reports, survey results, benchmarks and more," said Michael Mabry, executive director of the RBMA. "With enrollment climbing each year, participants benefit even more over time. Our investment in the development and continuous improvement of DataMAXX reflects our commitment to leveraging technology for the benefit of our membership."
The Radiology Business Management Association is a national not-for-profit association providing members with applied business information and intelligence applicable in any radiology setting. The RBMA has approximately 2,300 members involved in various management capacities in private practices, academic radiology groups, imaging centers and hospitals. The RBMA continues to be recognized as the leader for radiology-specific educational programs, products and services, publications and data.