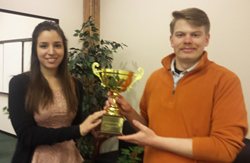 Chicago, IL (PRWEB) April 02, 2014
American Homeowner Preservation ("AHP") is proud to announce that the employee of the month award for March 2014 has been bestowed upon Senior Asset Manager Michael Nelson. Michael received this award on the recommendation of his colleagues at AHP, based on some of the following criteria: Positive attitude toward work responsibilities and co-workers, commitment to quality in carrying out job responsibilities, exemplary individual achievement and performance.
Michael's uplifting spirit can be felt all around the office, as one coworker noted, "Michael contributes to a very upbeat workspace environment. He is jovial and brings everyone in on the conversation. There is a noticeable difference in the volume in the office on days that he is absent. He works hard but still has fun."
Michael has been part of the AHP team since October 2012. In his current role as Senior Asset Manager, Michael guides assets from the time AHP acquires them through all forms of disposition. Michael can be overheard day in and day out diligently working with homeowners over the phone and thoroughly answering whatever questions they may have throughout the disposition process. Additionally, Michael's duties include composing training aids for AHP, actively training interns, and creating training manuals for the future.
Along with his positive attitude, Michel's work ethic and achievements have also gained notice from his coworkers. "Michael is able to manage and oversee the other asset managers while still staying in the pack as far as number of his own personal dispositions. He is able to take time out to complete projects on all the asset managers' behalf and still close on a fair number for himself," one colleague noted. "He has created protocol for the rest of the asset managers, creating systems for them to follow as he figures out the simplest solutions to obstacles as they arise on each asset in each county."
Michael holds a B.A. in history from North Park University and discovered the opportunity to join AHP through the recommendation of one of his history professors. "I had seen movies and read articles about the whole subprime crisis; that really piqued my interest." Michael said when asked what drew him to working at AHP. "The prospect of working in this politically charged and relevant field of housing finance was really interesting to me."
Some of the perks enjoyed by the employee of the month include choosing the office snacks for the month and choosing the restaurant for AHP's monthly luncheon. Michael said that he celebrated his victory by eating three bags of CheezIts, a snack choice that came courtesy of last month's winner, Marketing Manager Laura Sorg. Michael is contemplating fish sticks as his snack of choice around the office.
American Homeowner Preservation was established in 2008 as a nonprofit organization before transitioning to for profit. Today, AHP purchases pools of distressed mortgages from banks at big discounts, and then offers sustainable solutions to families to avoid foreclosure and stay in their homes, while concurrently generating attractive financial returns for both the homeowner and investment community. For more information about American Homeowner Preservation, please visit our website at https://ahpinvest.com, call (800) 555-1055 or email us at info (at) ahpinvest (dot) com.