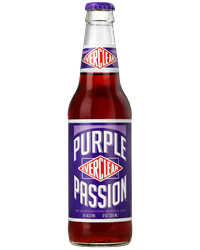 St. Louis, MO (PRWEB) April 02, 2014
St. Louis-based Luxco announced it is relaunching Purple Passion with a new formula and a retro-inspired package. This ready-to-drink beverage will be available in stores beginning in April of this year.
Originally launched in 1986, Purple Passion was a pioneer in the Ready-to-Drink category and was an immediate success, with sales reaching almost 1 million cases. Through the years, the brand has gone through many transformations, most recently sold as a 26 proof, spirit-based non-carbonated drink.
Now, Luxco is excited to re-introduce the original, 10-proof, carbonated formula back to the public. Coinciding with the new formula, the packaging will also be changing from the current PET bottle to glass, 12-oz. bottles in a portable 4-pack.
"We are excited to relaunch this product with a fun, retro feel as a nod to the brand's origin but going back to the original formula to address growing consumer demands," said Laura Bogart, brand manager at Luxco. "We have seen a trend in consumers increasingly favoring beverages that are light and flavorful, which fits Purple Passion perfectly. The updated formula, with wine and natural grape flavors at the heart of it, is low in alcohol and non-malted– a great refreshing choice for the upcoming summer months."
The product will be bottled at the company's winery, Meiers, in Cincinnati. The suggested retail price for the 4-pack is $7.99.
For more information about this product, please visit Luxco.com.
About Luxco
Luxco, Inc. is a leading producer, importer and marketer of beverage alcohol products. Our mission is to meet the needs and exceed the expectations of our consumers, associates and business partners. Founded in St. Louis in 1958, where it is headquartered, it is owned and operated by the Lux family. Its portfolio of brands include: Juarez Tequila & Triple Sec, Pearl Vodka, Everclear Grain Alcohol, Arrow Cordials, El Mayor Tequila, Ezra Brooks & Rebel Yell Bourbons, Lord Calvert Canadian Whisky, St. Brendan's Irish Cream, Salvador's Cocktails, Yago Sant' gria and other well-recognized brands. For more information about the company, visit http://www.luxco.com.